How does the Secretary ensure the Treasurer has the details for any WePay Deposits?
When a member makes an online payment in OLP, the payment is recorded automatically on the member record AND displayed in a daily collated Officer Funds Transfer that separates any online payments from a cash or check payment.
This online Officer Fund Transfer report provides the Secretary and Treasurer with a single source of data:
which members made a payment,
what amount was paid (and what transaction fees were removed),
what were the payments for (to which income account does the money get assigned),
what is the total deposit amount.
Location of Officer Fund Transfers:
Income / Expenses > Officer Fund Transfers > Online Yes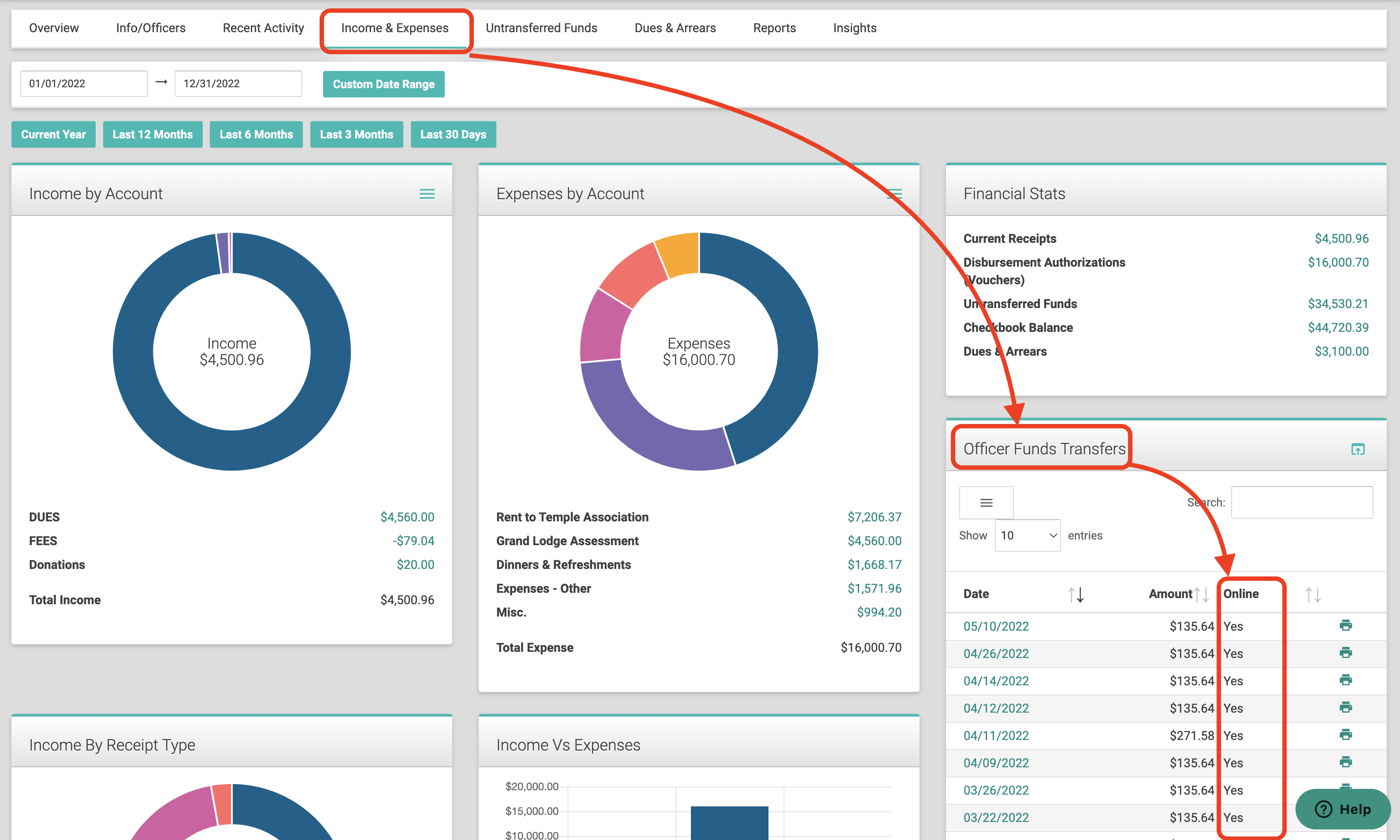 Click on the Date to view details. Click on the printer icon to print the OFT directly.

Detail View (Processing Fees covered by the member):
There are two circumstances where you'll receive a member payment without any processing fees:
Your local is opting into Surcharge the member and the member pays by credit card, OR
Your local is opting into Surcharge the member and the member pays by debit (bank-linked) card and checks the box to cover all processing fees.
Here you'll see four tables:
Line by line of each receipt with details including last four of card number
Breakdown By Payor
Breakdown By Receipt Type (separates Online Credit Card from Online Debit Card)
Breakdown By Account (Separates Dues by Dues Year, and any other income accounts)
Total deposit amount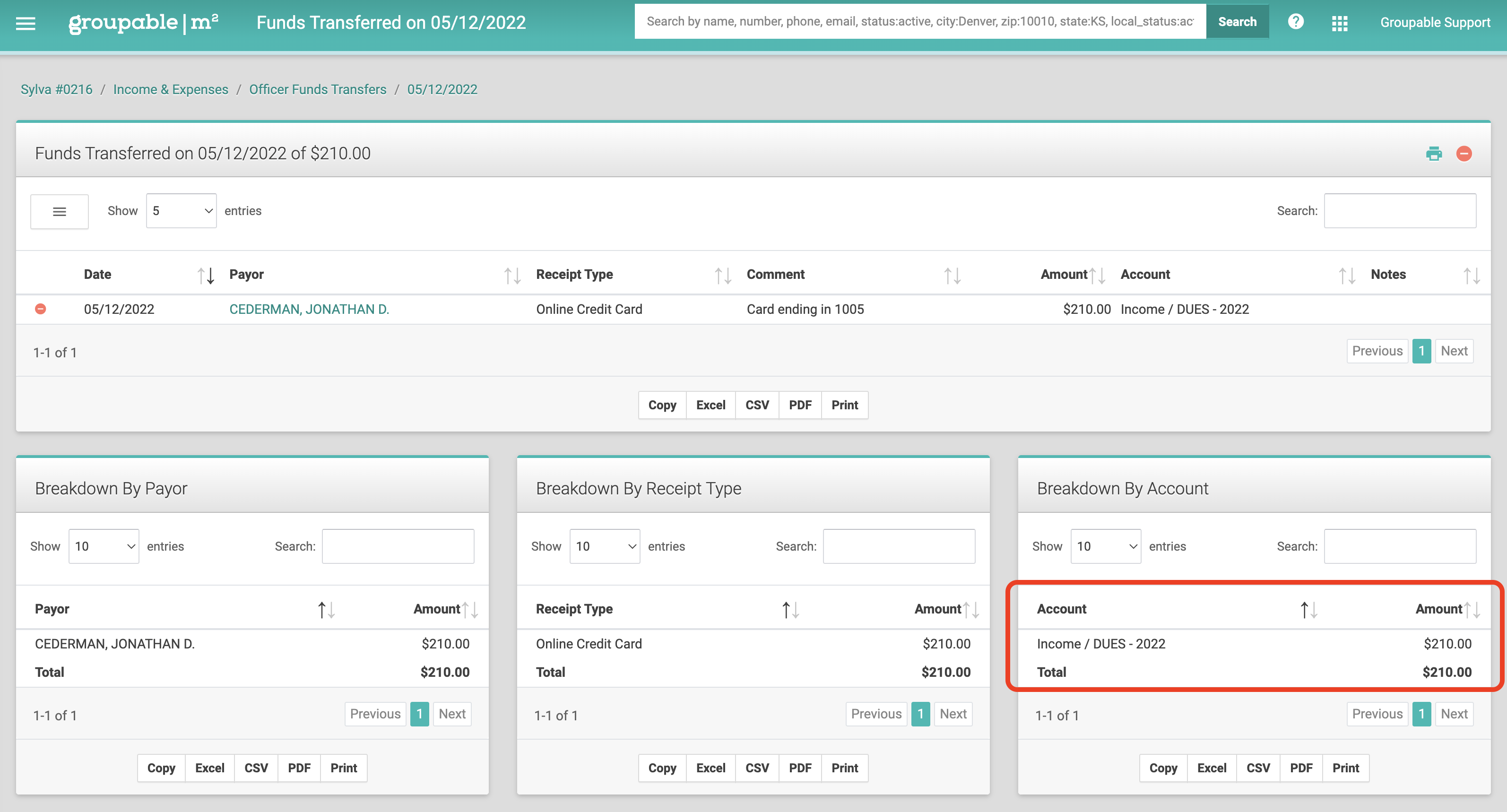 Detail View (Processing Fees paid by the local group):
There are two circumstances when you'll see processing fees on the Officer Funds Transfer:
Some locals choose to cover all the processing fees for the members.
When your local group surcharges your members who pay by credit card, no matter what, you'll still be responsible for any debit (bank-linked cards) card processing fees when a member doesn't volunteer to cover those fees themselves.
Here's what the Officer Fund Transfer looks like when the local group is paying those fees: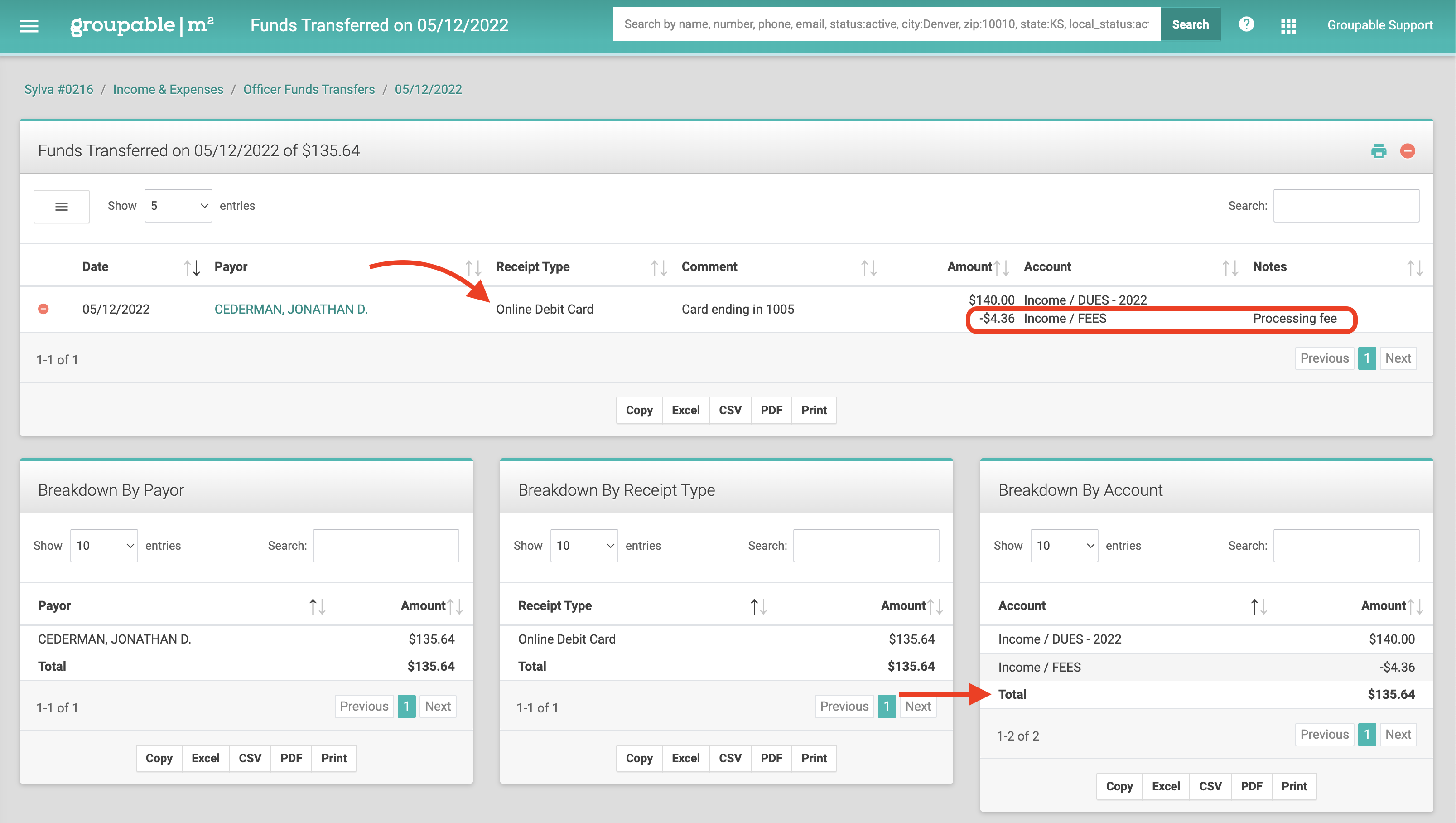 Again, You see the same four tables, and you'll also see, for any member who paid with debit card and did NOT cover the processing fees, that they have a separate line item subtracting the fees from their total payment. The Total payment will subtract any processing fees for any applicable transaction.
Printing an Officer Funds Transfer:
Click the printer icon in the upper right corner: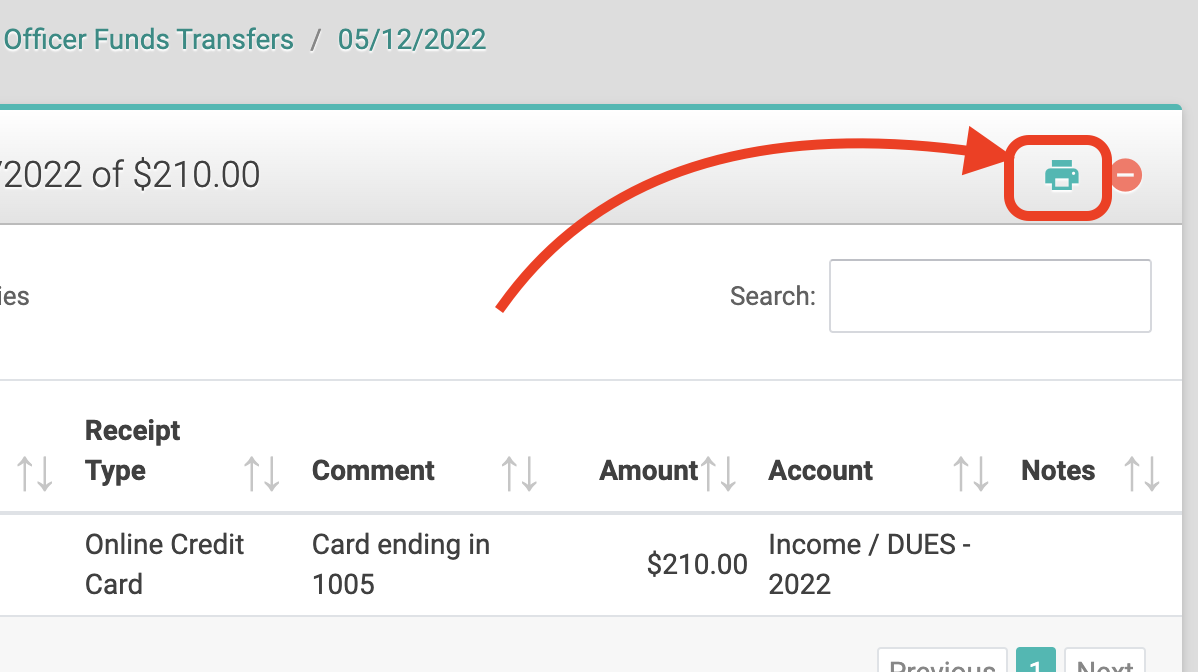 A new screen will pop up, with a printer modal: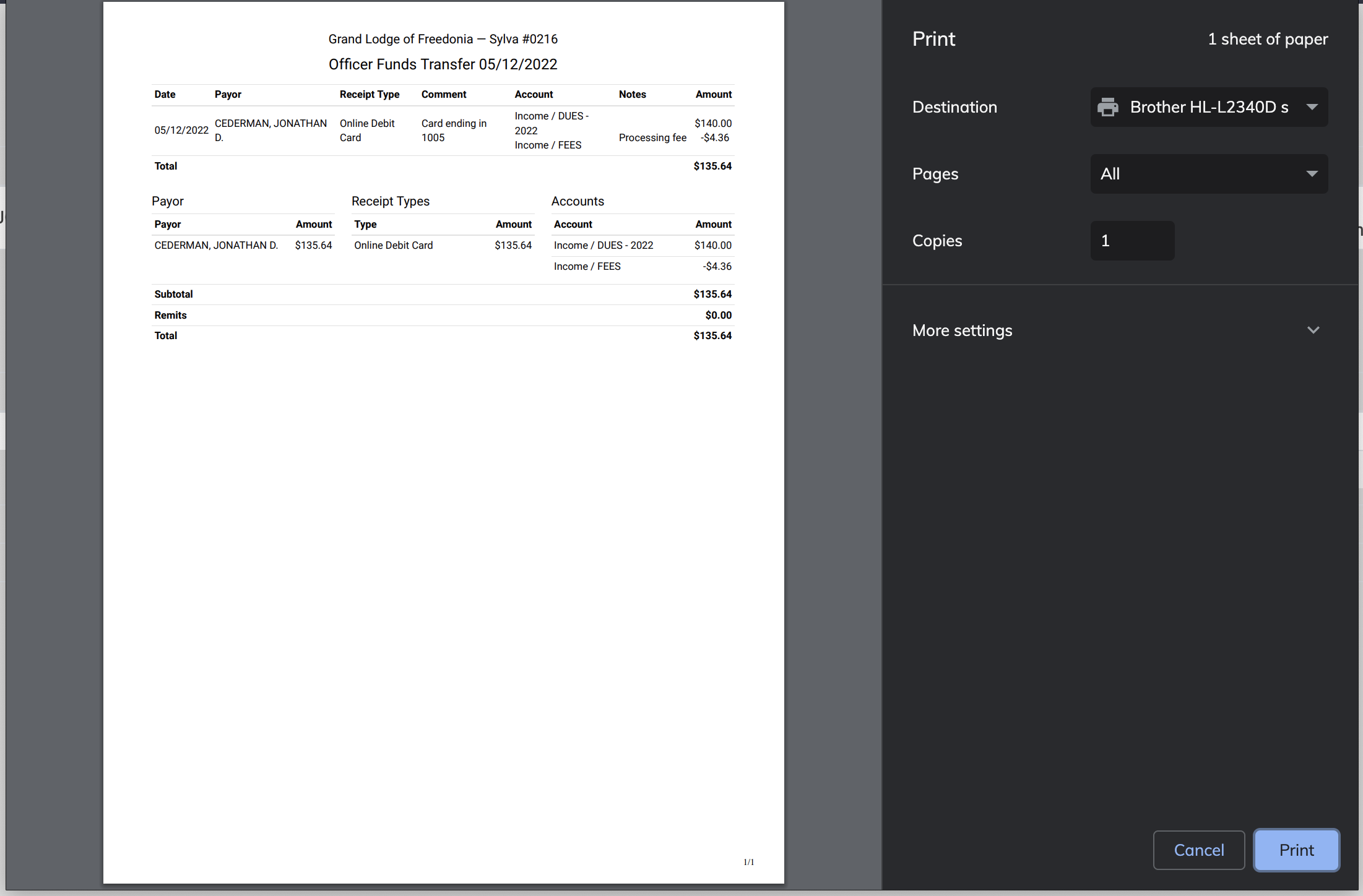 Download and email the OFT to the Treasurer:
If you'll be downloading this page and emailing it instead of printing a hard copy, simply click the printer Destination on this screen and change it to Destination: Save as PDF > Save.
Be sure to set the file name and destination folder on the next screen, and then email the file to the Treasurer.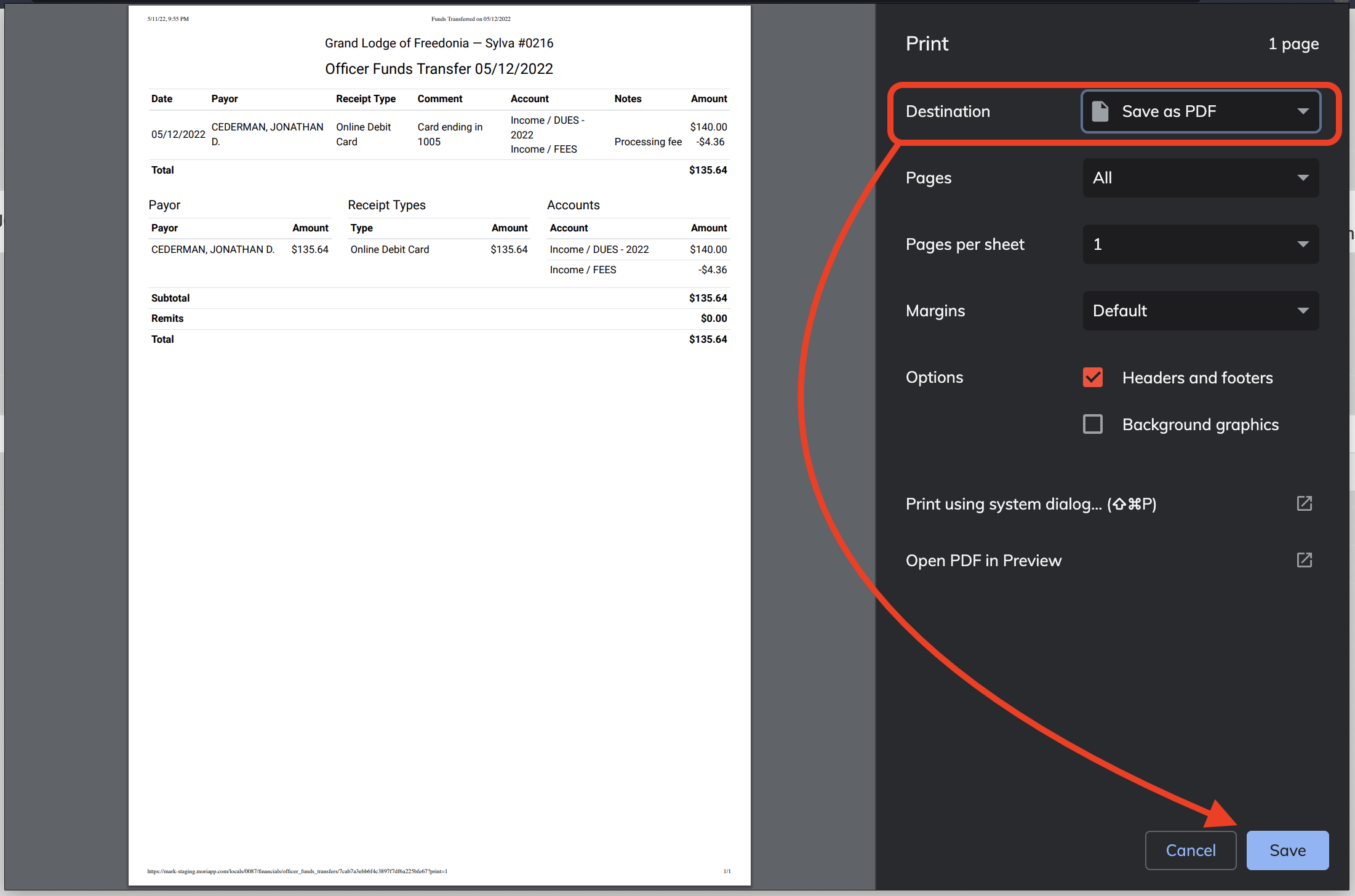 Get Your Treasurer Logged In to Groupable:
That's right! In most organizations, your Treasurer can create their own read only account to log in and look up Officer Funds Transfers themselves and work collaboratively with you and the other officers of your local group.
Invite the Treasurer to create their user account from their member record:
Inviting a User to Groupable|m2