Navigation: To reach a particular member record, click on the member's name.
Available on computer, tablet, and mobile views; sections appear in a different order depending on the size of your device.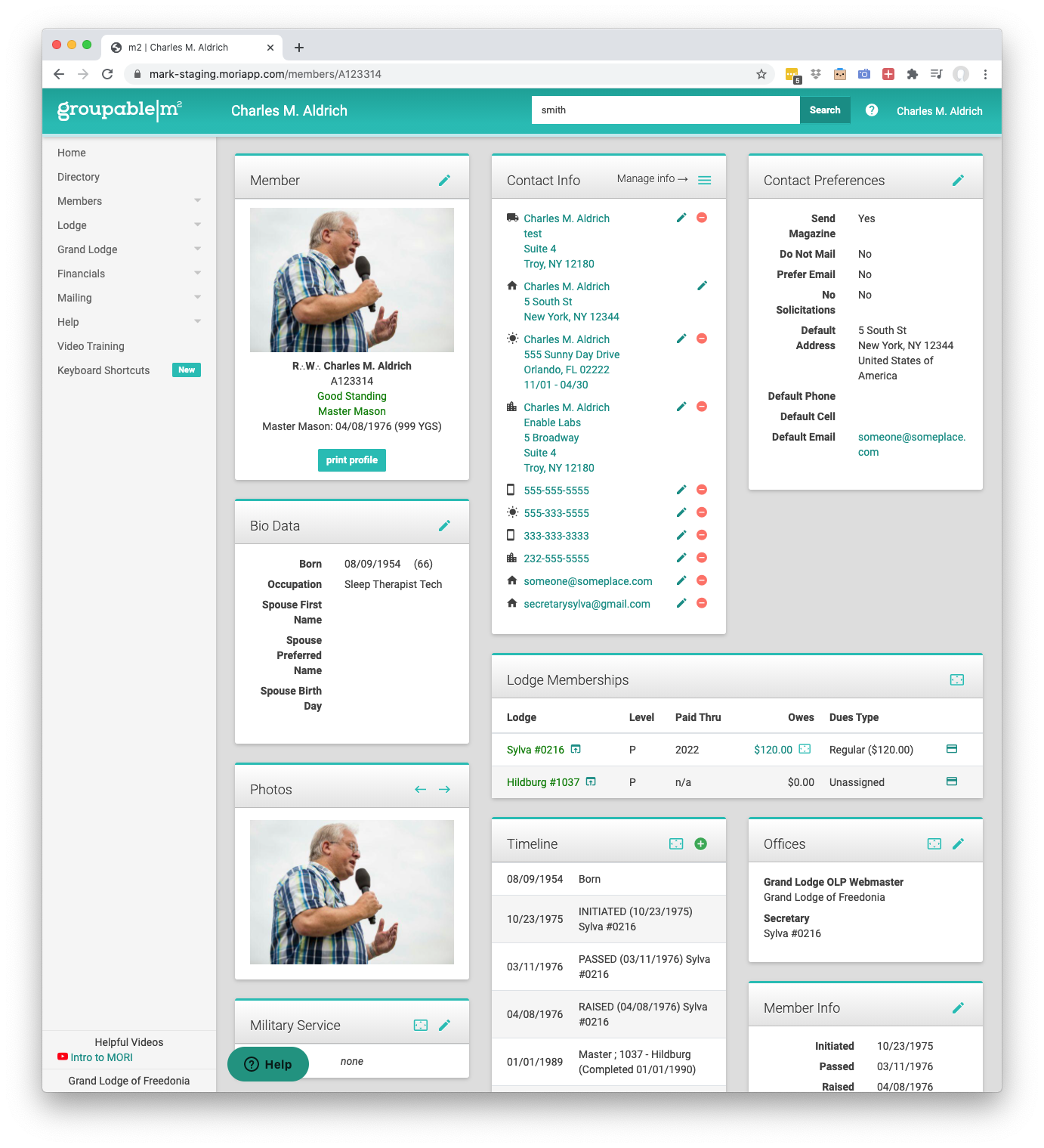 Sections:
Member:
Edit icon (top right corner)
Photo (click to display photos and add or remove member photos)
Name and honorifics
Member Record Number
Parent Organization Status
Degree or status
Date of initial membership and years of good standing calculator
Print Profile button (note: the member MUST have a "Primary" affiliation in order for the profile to print)
Menu (Add Contact Fields, view history)
Physical and mailing addresses - (click to display label and envelope print buttons)
Phone numbers (click to call from mobile device)
Emails (clickable to email)
Contact Preferences:
Edit icon (top right corner)

Send Magazine
Do Not Mail
Prefer Email
No Solicitations

Default Contact Info (date-sensitive)

Displays the current defaults:
Default Address
Default Phone
Default Cell
Default Email
Email History (Parent Organization)
Bio Data:
Edit icon (top right corner)
Birth Date (calculated age)
Occupation/Employer
Related persons data
Memberships:
Click to expand detailed view

Member Affiliations

Click name to view this affiliation
Level (Primary, Secondary, etc)
Paid Thru Year
Dues Owed (click to expand Payment History if permitted)
Member Type/Dues Rate
Request Dues Card
Edit Affiliation (if permitted)
Military Service
Click to expand detailed view
Edit icon (add or edit)
Notes
User Account
User Name
Account Enabled
Last Login
Failed Attempts
Active User Roles
Links (clicking these links sends link to cell phone and email on record)

Invite user to create an account (Available only for those members who have an Office that may permit an active User Account. Your jurisdiction permissions may vary)
Resend Welcome Message (Sends link to enable new account)
Send Password Reset (Sends link to resent password)
Timeline:
Click to expand detailed view
Add icon (add or edit items in Timeline)
Member Events by date (these events and dates are used for calculating YGS)
Historic Offices Held by time
Current Offices:
Click to expand detailed view
Edit icon (top right corner) does not make changes to officers of a club/chapter/lodge.
Use Certificate of Election to update the Officers of a chapter/club/lodge.
Member Info:
edit icon (top right corner)
Names and dates of significant member events
Proposer/Sponsor (if known)
Mentor (if known)
Awards/Certifications:
Click to expand detailed view
edit icon (top right corner)