Finding a Member
As logged in as a Secretary, your Home (Overview) Screen will display your membership roster.
For a Masonic organization, you will see MM (#), FC (#), EAs (#), Inactive (#), Others (#). Other Types of groups will see other Heading Tabs.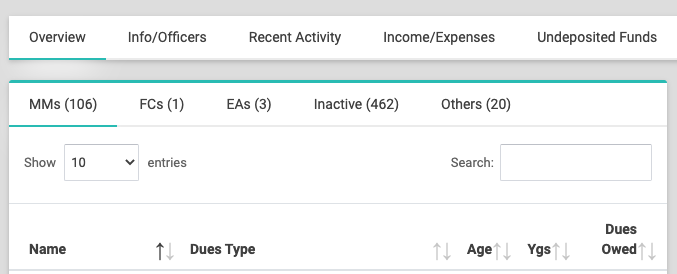 To find an individual, select the subcategory of Membership that applies. Your Active Membership will be displayed on the left, your initiates will be displayed in the next one or two fields (based on your jurisdiction). To find an NPD/SNPD or Deceased Member, select "Inactive". Contacts, Widows, Guests, Persons, Non-Members, and Subscribers are found in "Other" to the far right.
Use the Search within this Roster Table to search by name, Member Dues Type, etc.
You can also use the Search Bar on the top of the screen to look up a member. Most jurisdictions only permit member search within your local group.
Click the member's name to view or edit their Member Profile, address, or enter an event (such as passed, raised, demitted, deceased).
Click the $0.00 Dues Owed for the shortcut to their Member Payments screen.
NOTE: It is unnecessary to send a Registry Form to the Grand Secretaries office for events you have added using Groupable|m2. Should you need a certificate of dimit/demit or clearance though, you will still need to contact the Grand Secretary's office.