What:
The Home Screen is the default view when logging in.
No matter where you are in groupable:m2, clicking on Home in the upper left corner of the menu will always bring you back to this Screen.
Grand Body users have a Parent Organization Overview Home, District level users have a District-Overview Home, and Local users such as Club/Chapter/Lodge Officers have a Local-Overview Home.
Navigation of the Home View:
Universal Features:
No matter where you are in groupable:m2, you will find these following areas:
Left Hand Side
Home
Navigation Menu (NEW highlights any recent additions), and Help, Video Training, and Keyboard Shortcuts are at the bottom
Top Bar
m2 logo
Current Page Title
? Search tips
User Account Management
Breadcrumbs (eg: ability to navigate up the organizational levels from the current view)
Local Level User Home View: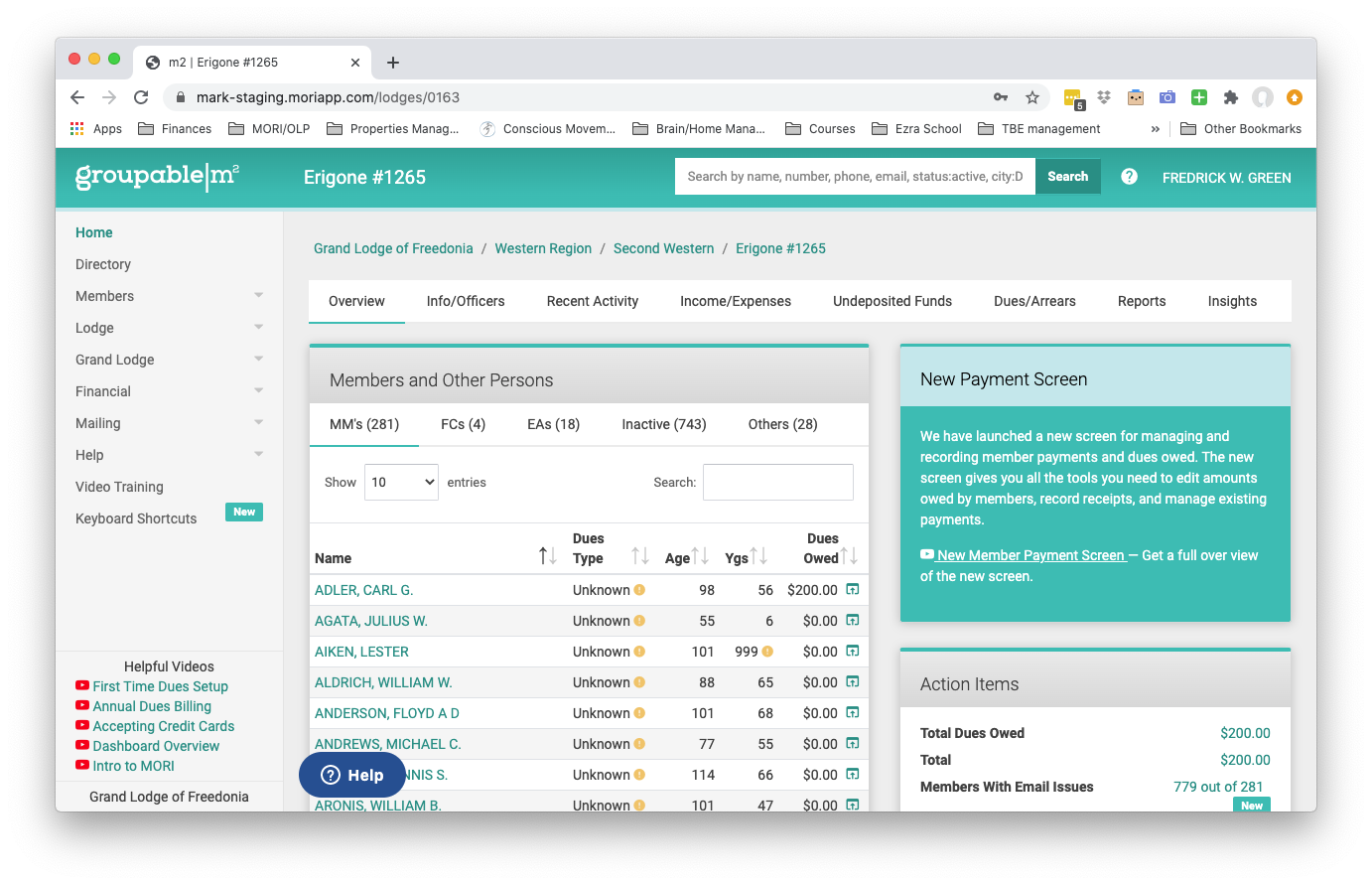 Overview
Info / Officers
Recent Activity
Income / Expenses
Undeposited Funds
Dues / Arrears
Reports
Insights
District Level User Home View: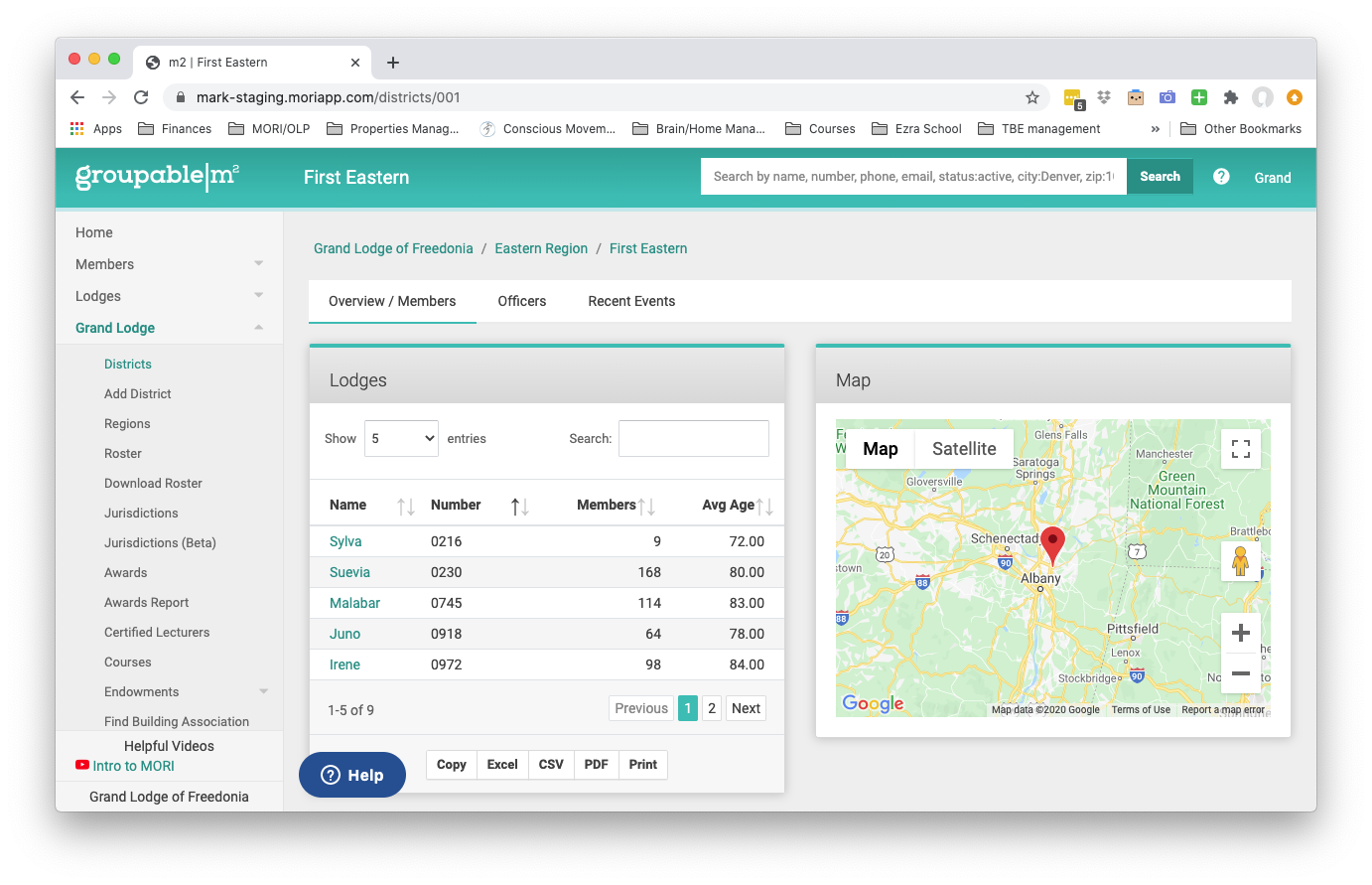 District Level Home Dashboard Tabs:
Overview / Members
Officers
Recent Events
Grand Body User Home Dashboard View: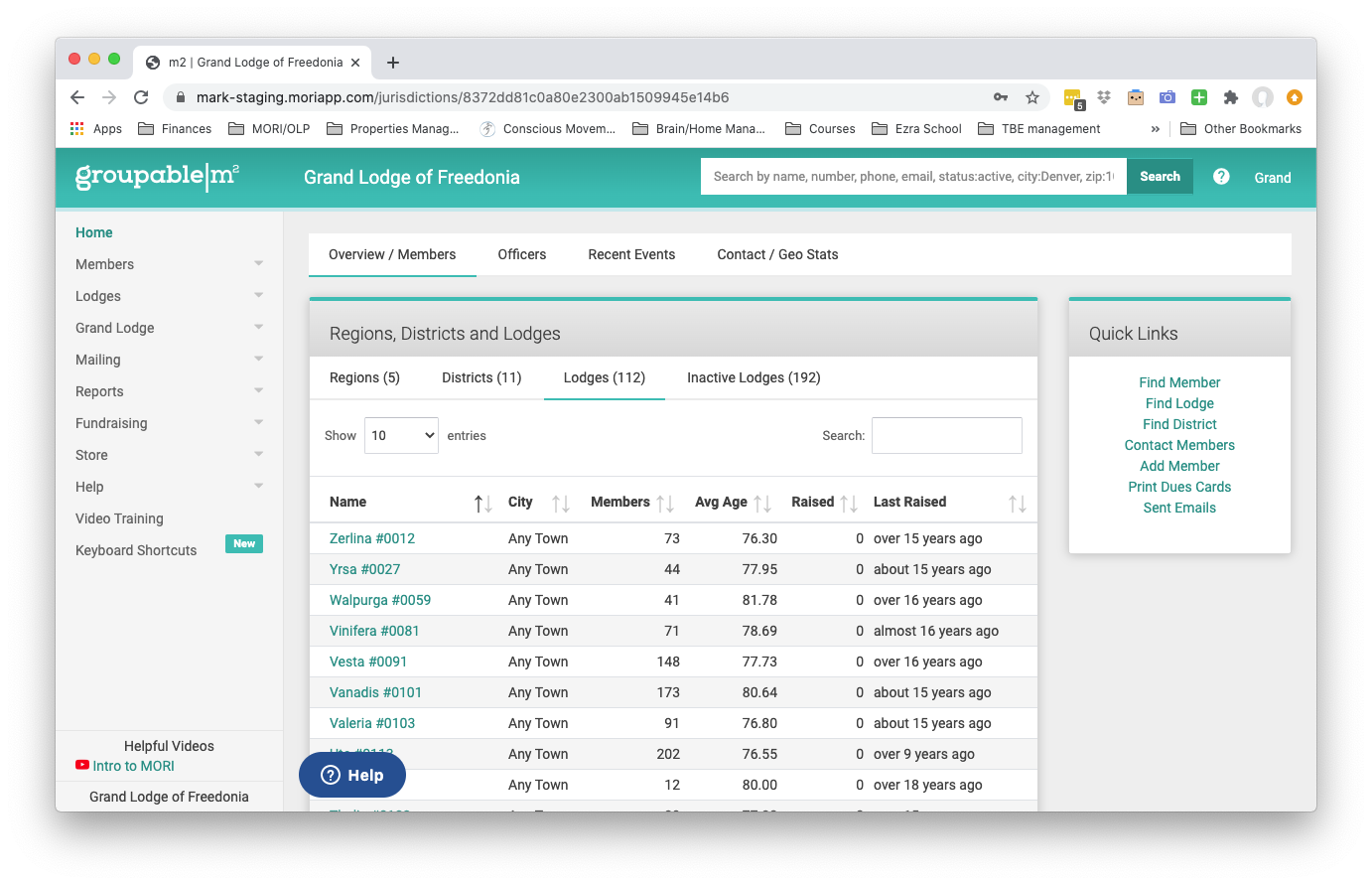 Grand Body Home Dashboard Tabs:
Overview / Members (Regions Districts and Lodges)
Officers
Recent Events
Contact / Geo Stats
---
Local Level Home Dashboard Tabs:
---
Overview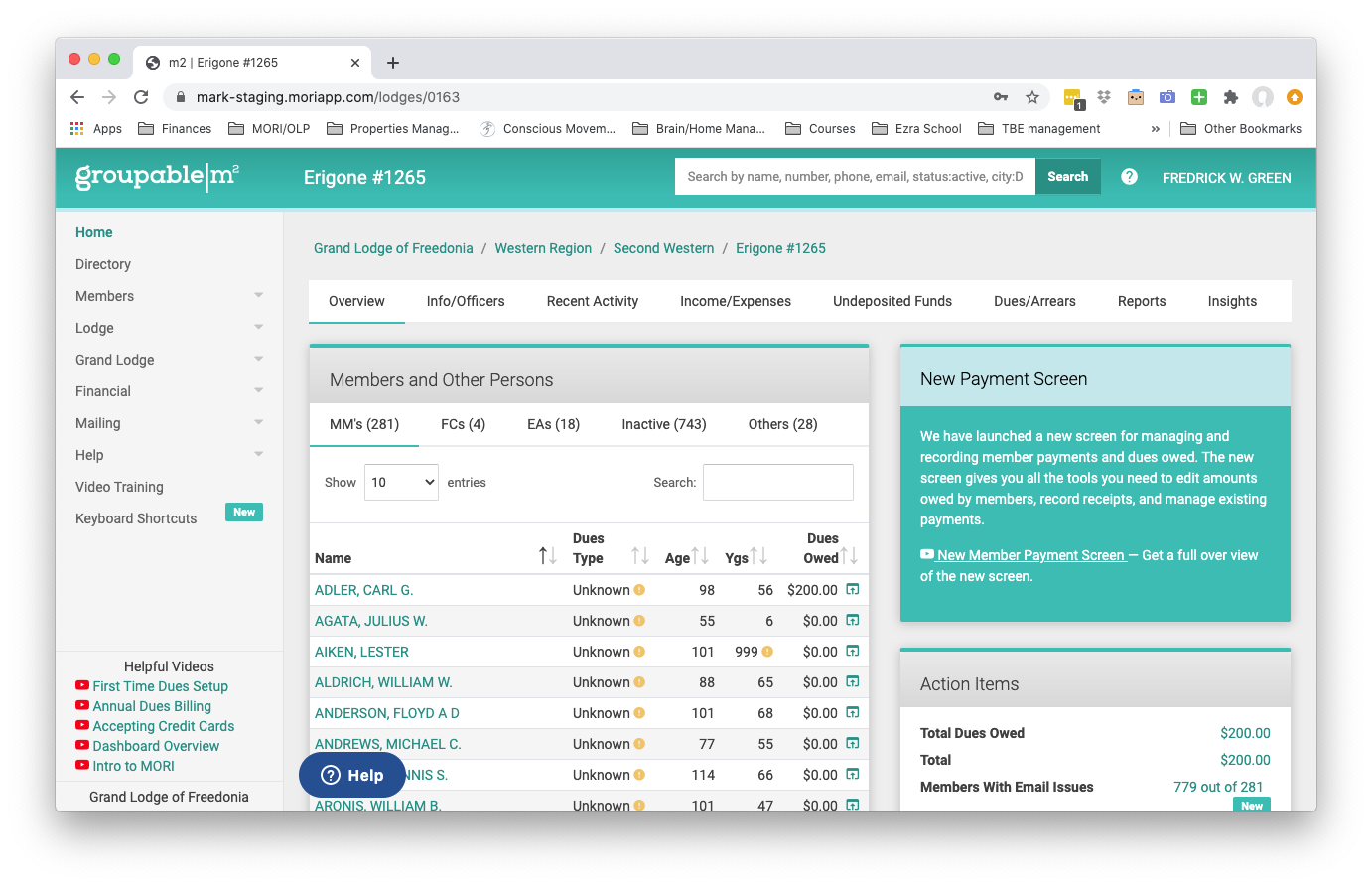 From the Local Overview, an Officer has Read/Write or Read-Only Access which is dependent upon their permissions.
An Officer can view a snapshot of their Members and Other Persons, Review the newest Video Tutorials highlighted in the upper right, View Action Items with clickable reports.
From Members and Other Persons, a Secretary or Assistant Secretary can view a Member Record, and Add or Edit Payments (and Dues).
All tables can be searched and sorted, and all tables have the ability to export data in five formats -

Info / Officers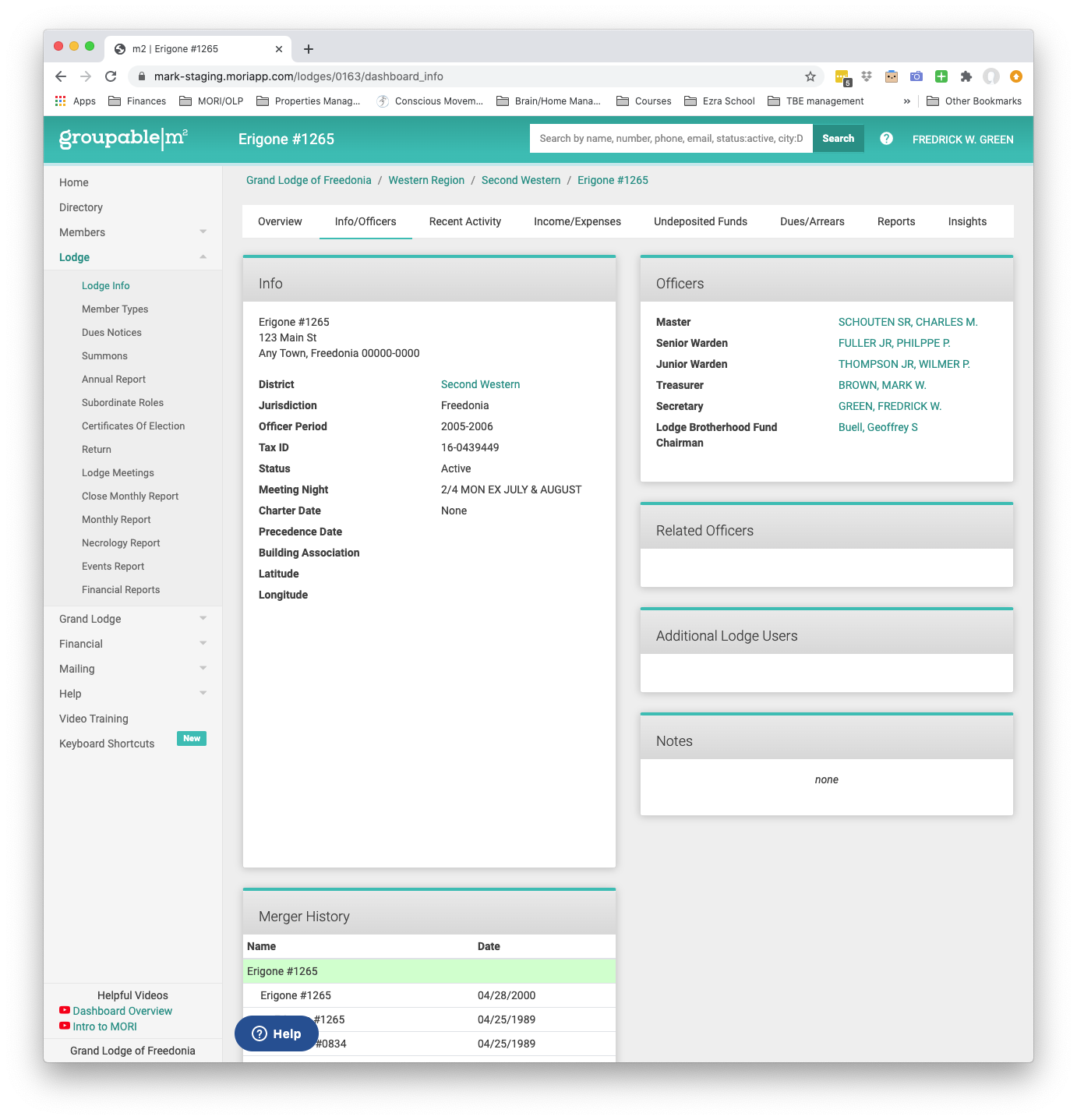 Info/Officers displays Chapter/Club/Lodge Info, including Tax ID (EIN or FIN), and Merger History as known. Current Officers are listed, any District Level Officers, and any Additional Lodge Users (such as Read-Only, Assistant Secretary, or OLP Webmaster), and any Chapter/Club/Lodge Notes made by the Parent Body.
Recent Activity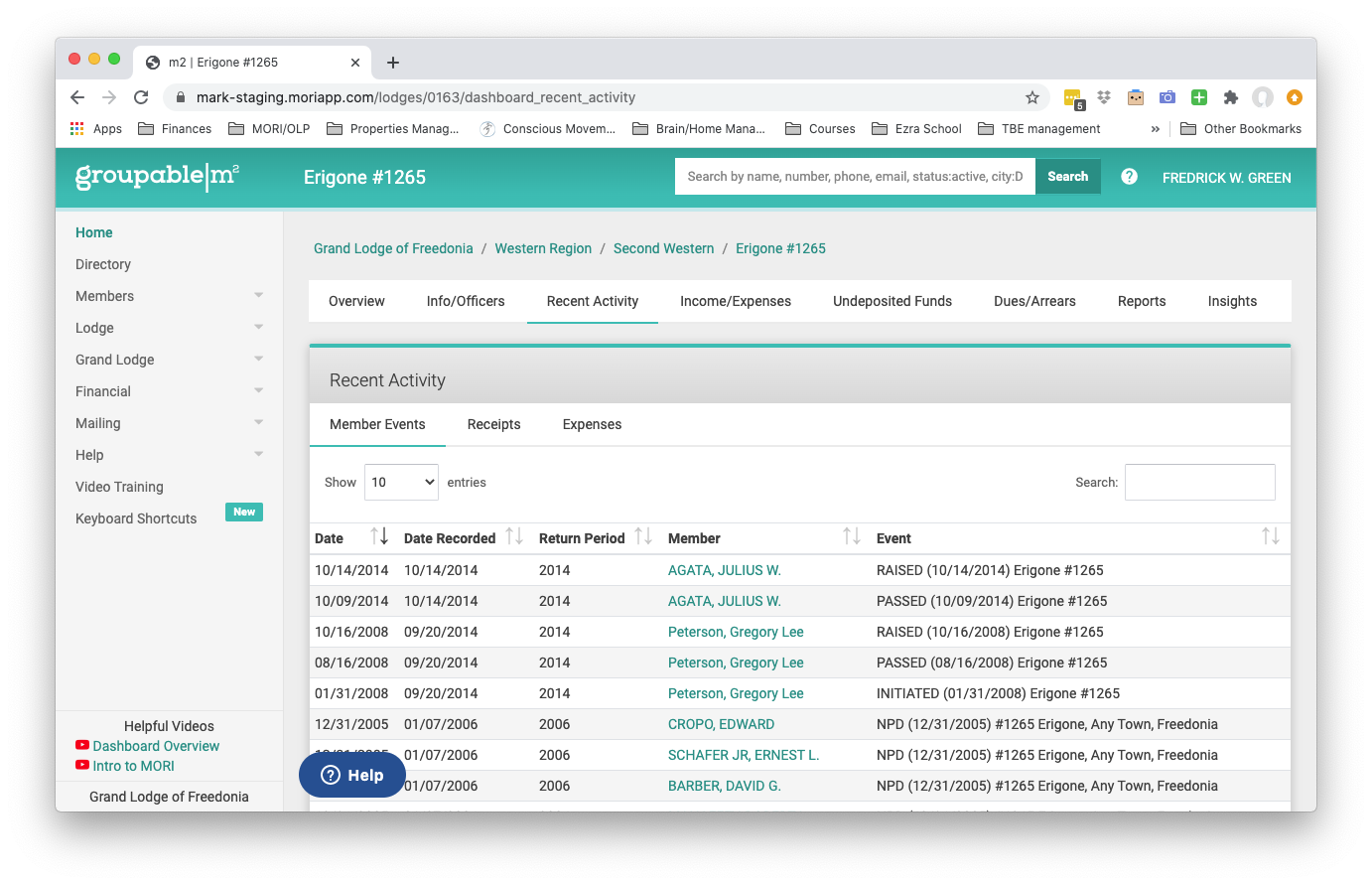 Recent Activity Tables:
Member Events (events in the past 24 months)
Receipts (Dues, Donations, etc)
Expenses (Vouchers)
All of these tables can be searched, sorted, and exported.
Income/Expenses
Income/Expenses defaults to display the Current Budget Period.
If a budget period has been closed, that is viewable by clicking the teal arrow as seen below:

Budget Period Areas:
Current Income vs. Expenses
Current Expenses Breakdown
Current Income Breakdown
Current Income by Receipt Type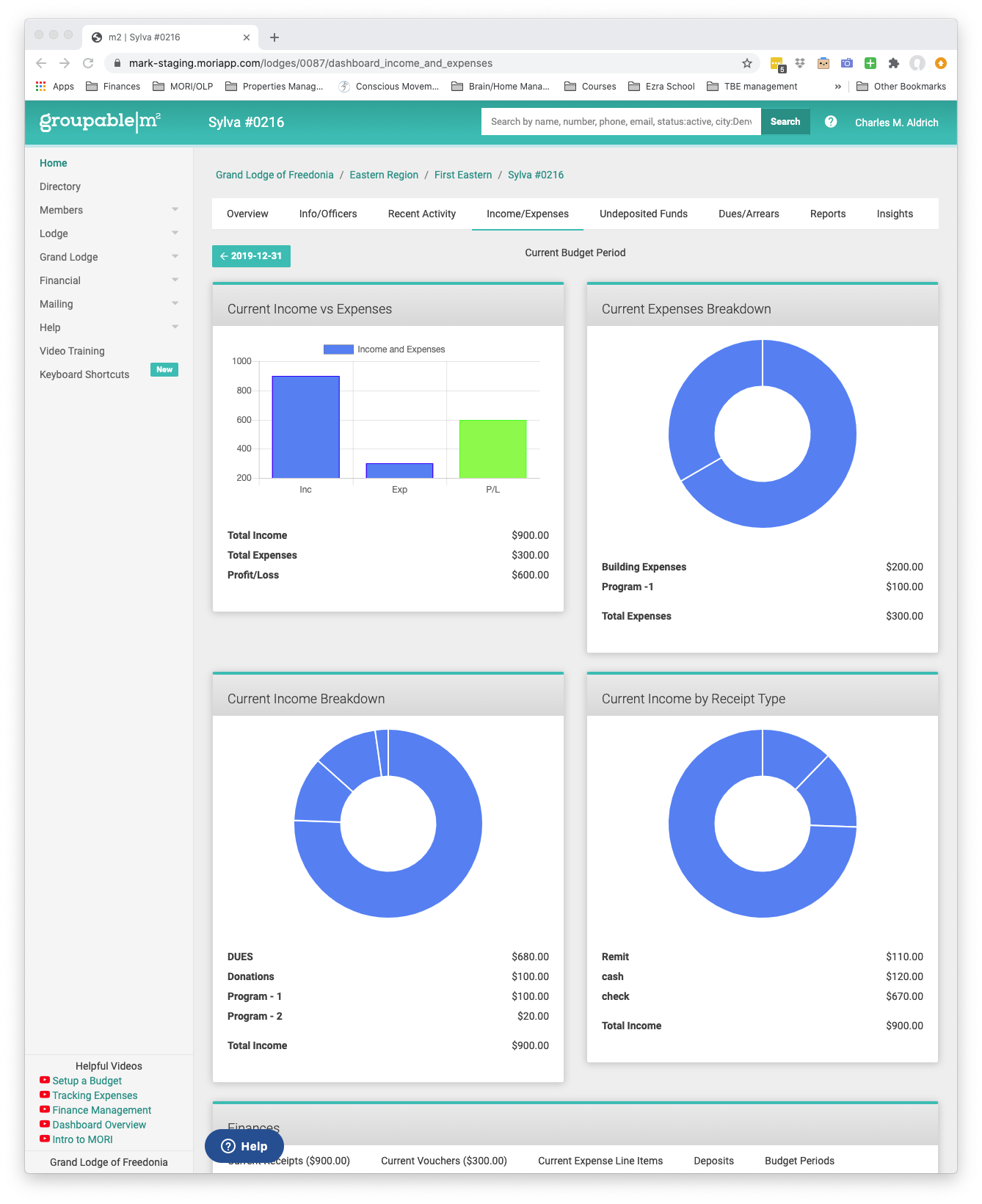 Budget Period Finances Tables:
Current Receipts
Current Vouchers
Current Expense Line Items
Deposits (for all Budget Periods)
Budget Periods (all)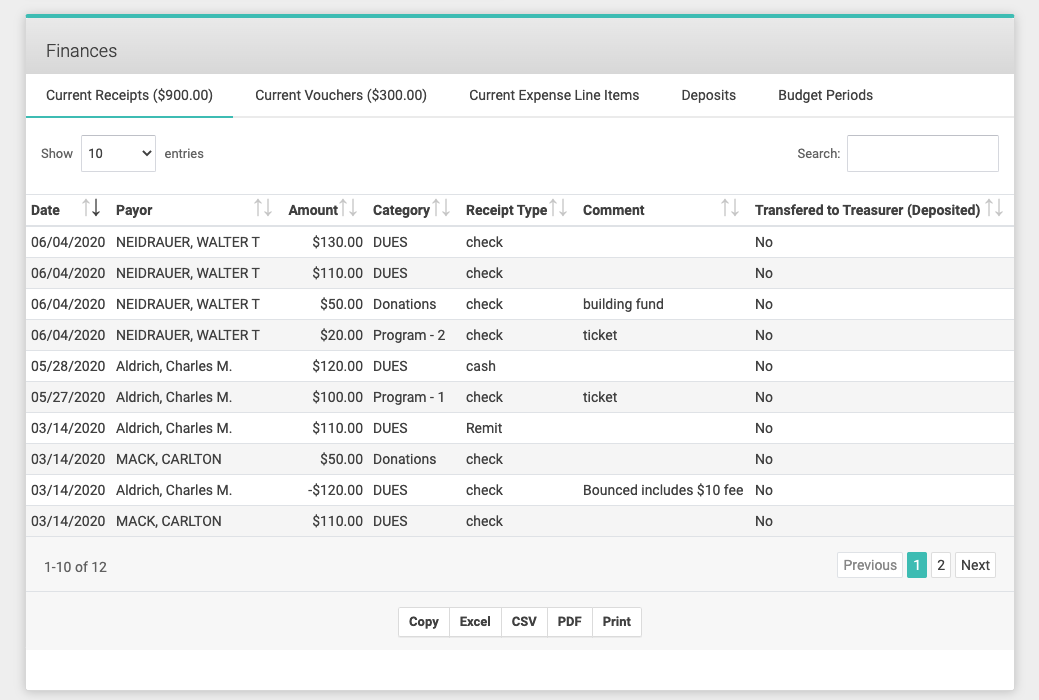 These Finances sections can be sorted, searched, and exported just like any other table and can be provided as Reports for your District or Parent Organizations for Annual Reports or Audits.
Undeposited Funds
This Tab displays any cash not yet Transferred to Treasurer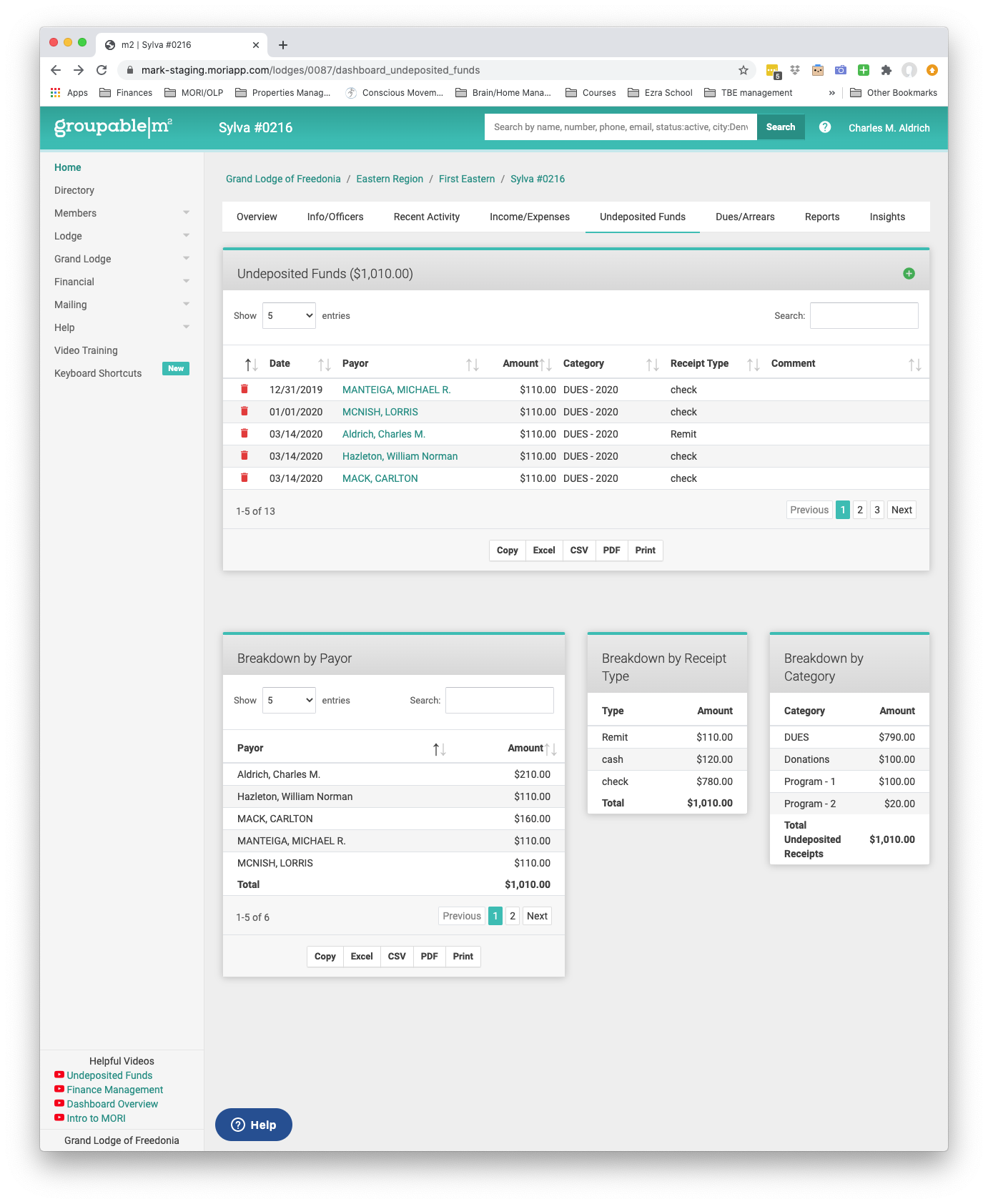 Undeposited Funds Tables:
Undeposited Funds (total) - ADD A DEPOSIT (green plus symbol)
Breakdown/Totals by Payor
Breakdown by Receipt Type (Remit, Cash, Check, Credit Card, etc)
Breakdown by Category (DUES, Donations, Programs, etc)
Every Deposit Record has the same set of tables and breakdown for your Treasurer.
Dues / Arrears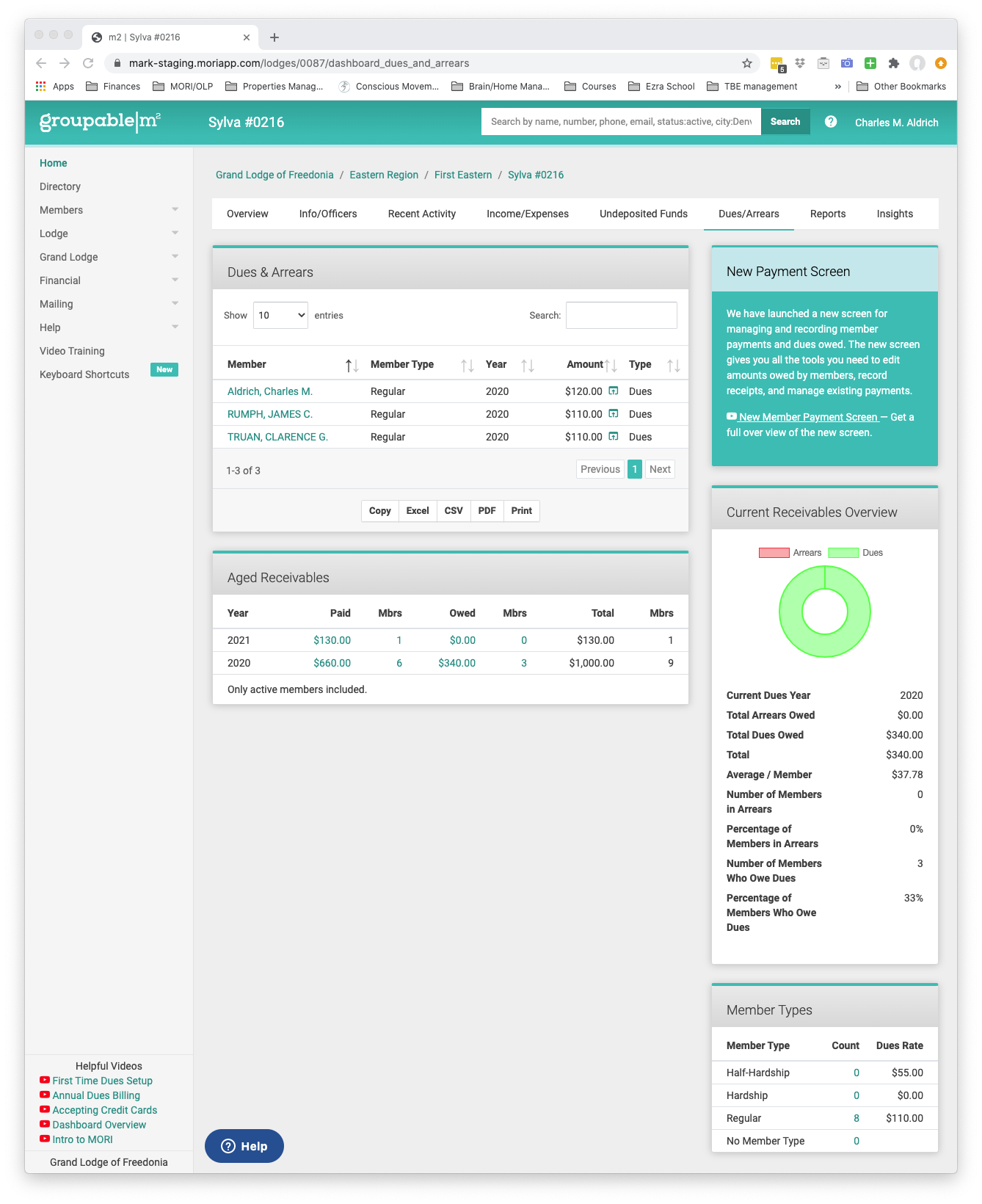 Dues and Arrears Tables:
Dues & Arrears (table of all outstanding Dues Owed, sortable/searchable by Member, Member Type, Year, Amount, Type)
Aged Receivables (drillable table with each Dues Year - Paid, Owed)
Current Receivables Overview
Member Types and Dues Rates
Reports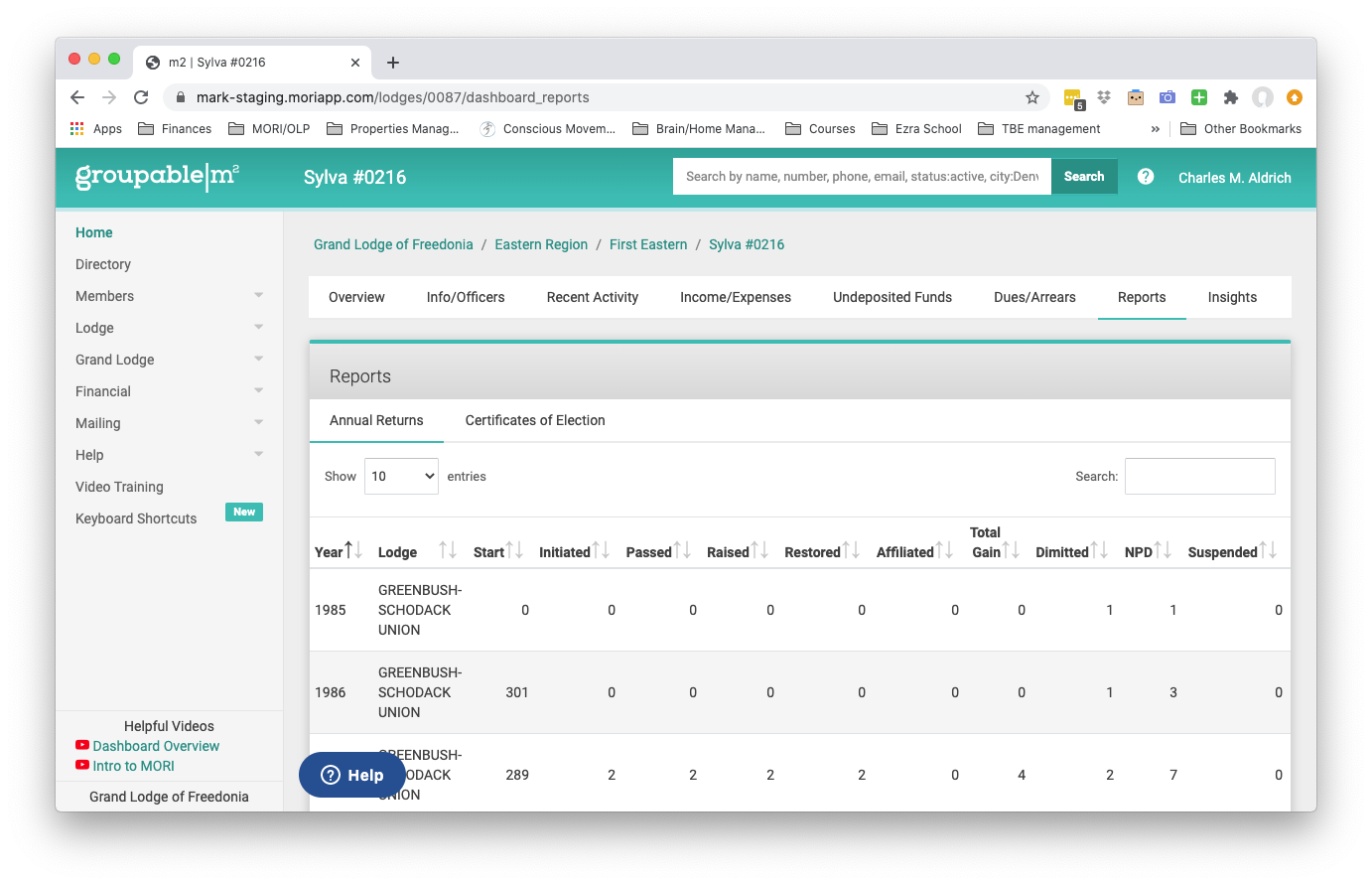 Annual Return Numbers
Certificates of Election
Insights
This data is updated annual from the Annual Return submitted to the Parent Organization.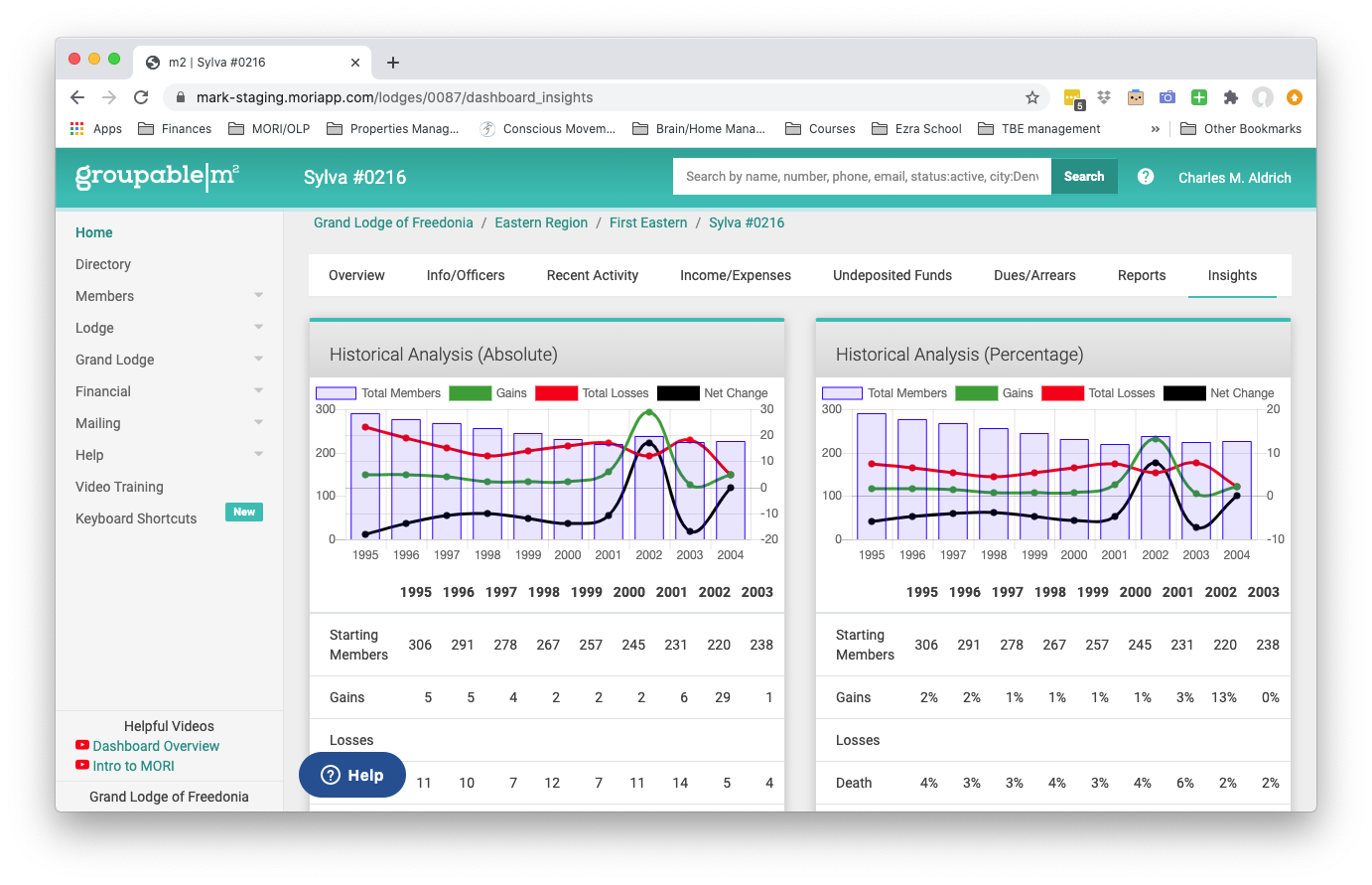 Historical Analysis (Absolute)
Historical Analysis (Percentage)

Loss Analysis (Absolute)

Loss Analysis (Percentages)