Member Payments Screen Details
Demo
Access: Secretary, AssistantSecretary, ActingSecretary
Shortcut to an individual's Member Payments screen:
The fastest way to enter a member payment is to click the Dues Owed $ link on the Home screen or in every Member Record
From the Home/Overview or Dues & Arrears screens
From the Member Record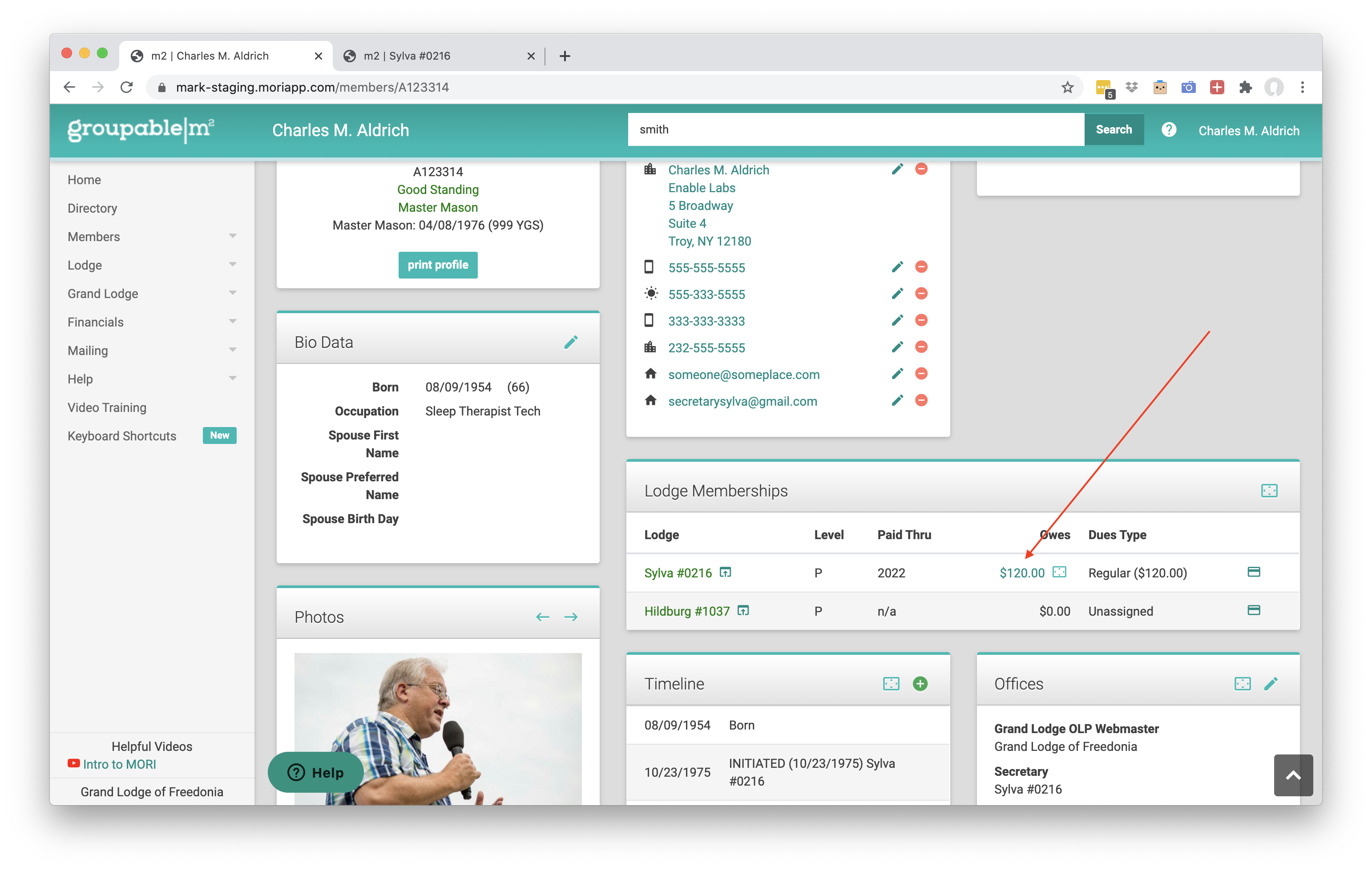 Finding Member Payments Screen
Select a Member:
Financials > Member Payments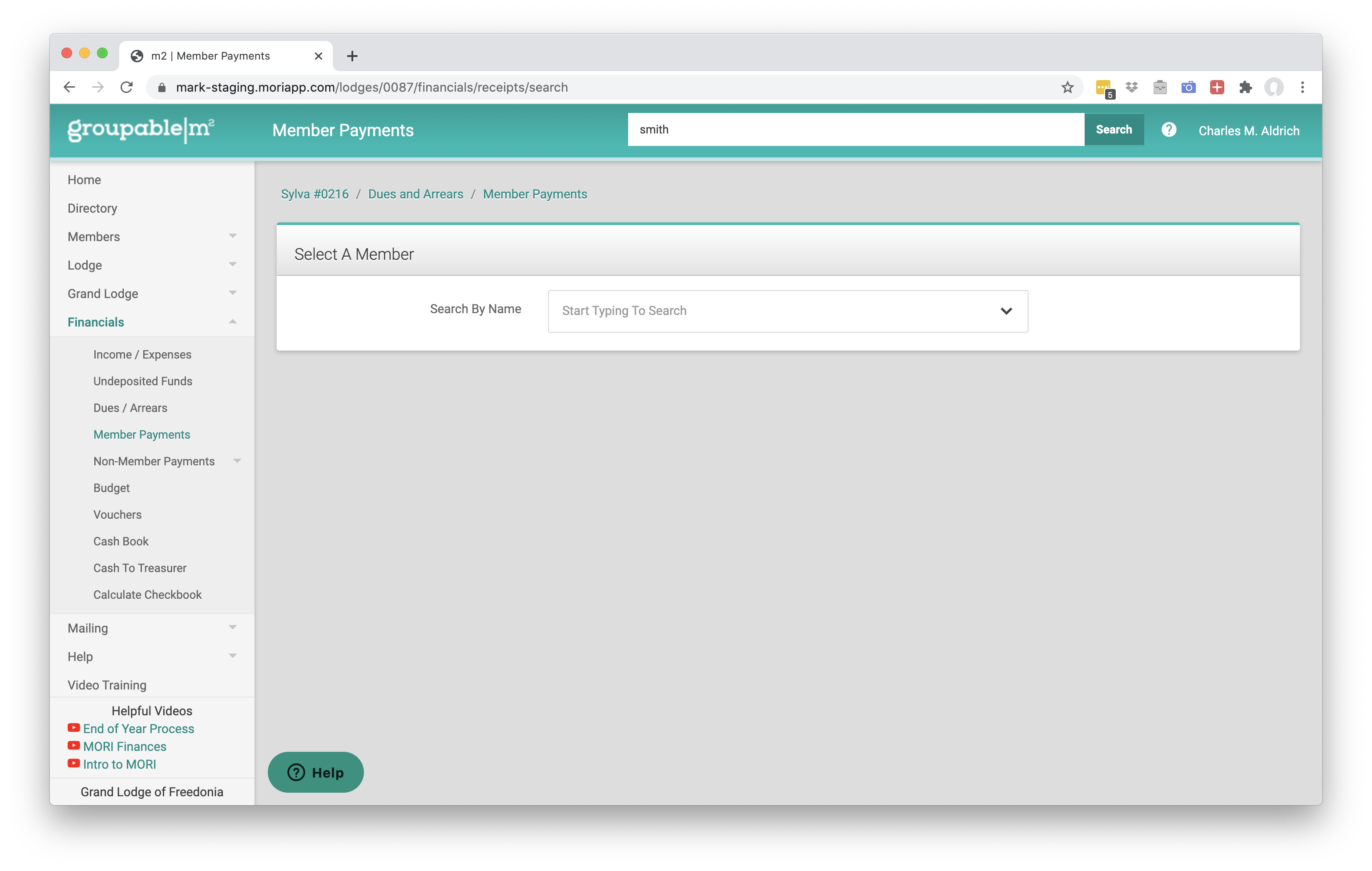 Click the Search By Name box:
Search by first or last name
At least three letters required

When a member has a last name containing two letters followed by a space ("de Winn"; "Mc Donald") please search by FIRST name or use their Member Payments shortcut from a Member list.
When the last name contains three letters followed by a space, you can search by last name ("Von
When the last name includes an apostrophe (O'Brien) be sure to begin your search with a quote " ie: "O'B"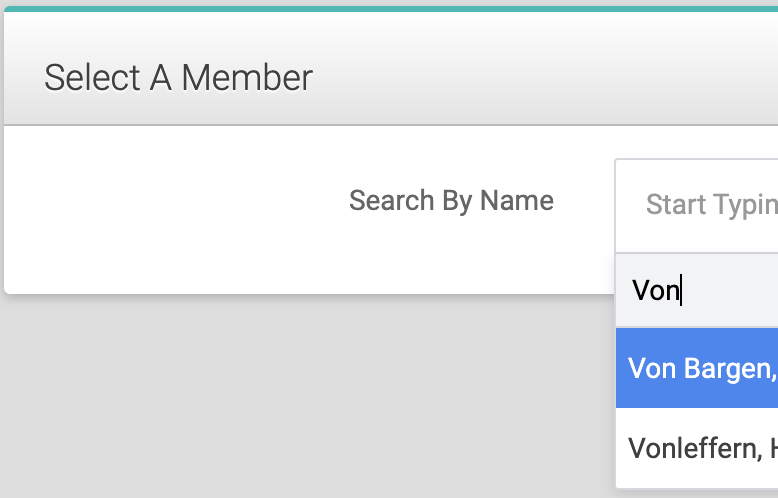 Member Payments Screen Layout & Use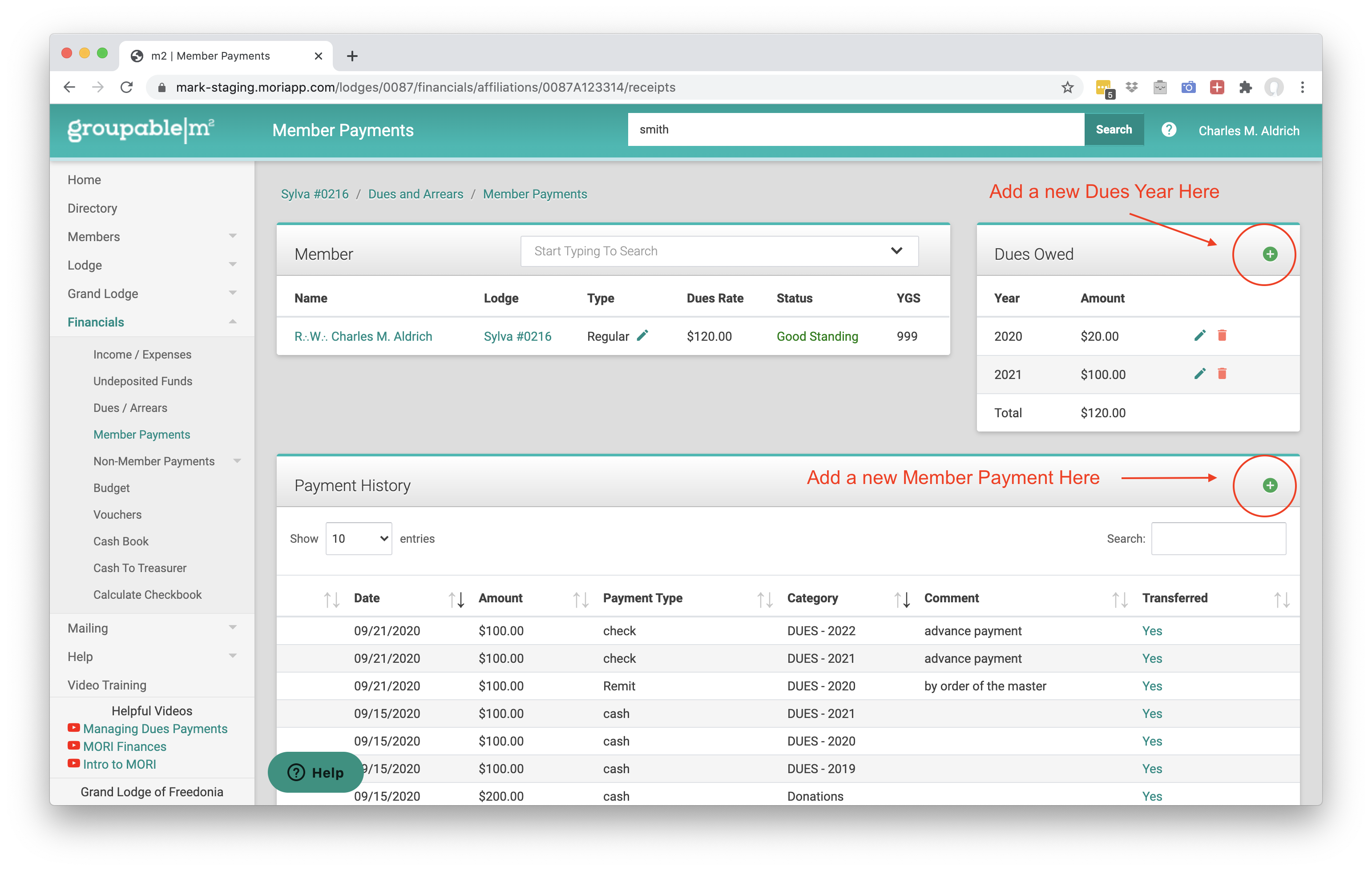 Sections:
Current Member
Dropdown search box - start typing three letters to select and switch to another member payments screen.
Member Name (link to Member Record)
Member Degree
Chapter/Club/Lodge Name and Number
Member Type (Regular, 50 yr, etc as set up by Secretary)
Dues Rate
Status (Good Standing, NPD, deceased)
Years of Good Standing (YGS)
Dues Owed
Add new Dues Owed Year
Dues Owed by Year

Edit Dues Owed by Year
Delete Dues Owed by Year

Total Amount Owed
Payment History
Add Payment(s)
Delete Payment
Transaction details

Date of transaction
Dollar amount
Payment type
Category and Year Applied
comments (check number, details)
Transferred to Treasurer (aka Deposited)
Add/Remove Dues Owed
When Deleting a Dues Owed Year, use the trash can.
When editing a Dues Year, use the pencil.
When adding a new Dues Year, use the green plus symbol.
Note: you cannot have two lines for the same Dues Year, and Dues Year cannot be zero.
Add Member Payment
Enter New Payments Fields
Date (MMDDYYYY format)
Amount (numerals only)
Payment Type (alphabetical)
Category (Income Categories, DUES should always be used when entering a Dues Payment)
Dues Year (only applies to Dues)
Comment (check number, custom notes)
Post Payment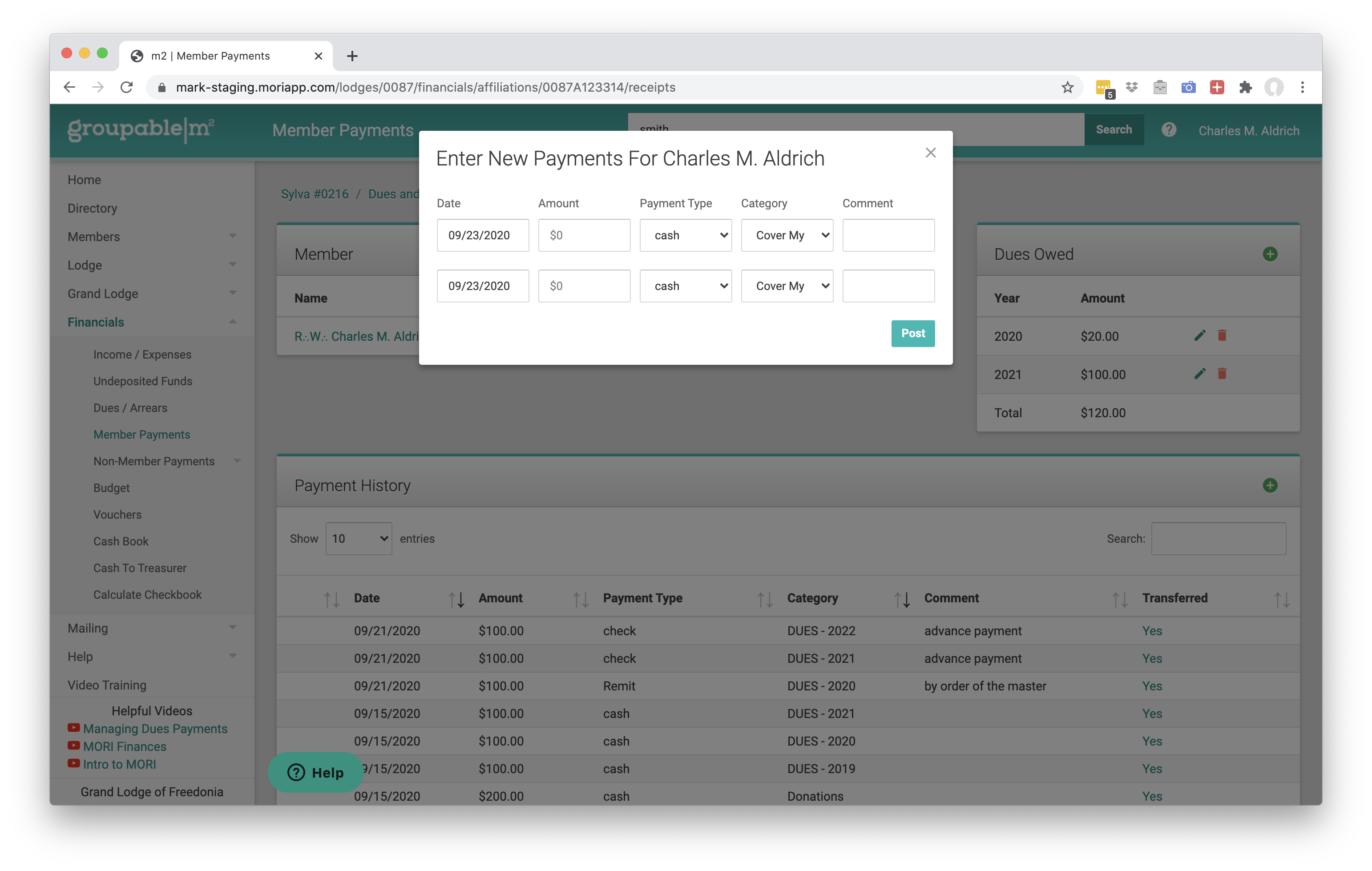 Member Payment Screen Behavior
Tab to move between fields.
Type the letters of your payment type and Income Category selection (ie: "DU" for DUES).
If the member is paying multiple dues year at once, enter total Dues Payment in one total line amount - the system will split it and allocate it to any Dues Owed Years, from oldest to recent receivable until Dues Owed = zero.
When Dues Payment is larger than Dues Owed, the system will ask you to allocate this overpayment to another Dues Year OR another Income Category.
When there are no Dues Owed, the system will automatically request that you allocate a Dues Year or Years for any Dues Payments.
Deletion of Member Payment
When a member payment line is deleted, this will revert the amount of the payment to Dues Owed.
If necessary, delete or edit Dues Owed to correct the Dues Owed amount.
Note: Payment cannot be deleted when the payment has been Transferred to Treasurer. To change a Dues Year or Category for an already-transferred payment, see instructions in notes below.
Payment Types Available
cash
check
Credit Card
Direct Deposit
Money Order
Online Credit Card
Online Debit Card
PayPal
Remit (does not affect Cash to Treasurer $)
Income Categories Available
DUES (use of this Income Category will adjust Receivables (Dues Owed)
Additional Income Categories must be added manually by Secretary in Budget Setup
Accepting Online Payments
Notes:
This screen cannot be used in Internet Explorer or AOL Web. For further details see Technical Requirements for Our Products
See Overpayments and Advance Dues Payments when a member has a credit for prior Dues Years.
Once entered, payments are immutable. You may delete and re-enter correctly until the transaction has been transferred.
When entering a Dues payment above that which is owed, you will be prompted to enter a dues year (future payments are allowed) or to change the Income Category to Donations/Other Category.
When entering more than one Dues Year payment, enter them in one total amount of Dues payments, and they will be allocated directly to the Dues Owed dollar amounts.
To correct a mis-entered payment after Cash-To-Treasurer (Transferred = Yes), simply enter the same payment again, but with the amount being negative. Explain that that is a VOID TRANSACTION in the comments. Re-enter transaction correctly as necessary.