Navigation
To reach the find member screen, go to Members > Search in the menu.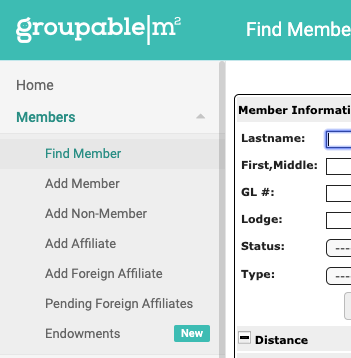 In m2, you are also able to search with the Search bar found at the top of all screens, with different search features. Here you can find more information about the use of Search.
Access
This screen is accessible to everyone logged in, though some are limited as to who they can search for.
Instructions
To find a member, fill in one of more of the following fields, all of which are additive filters.
Last Name
First, Middle Name
Member Number
Lodge
Status
Type
Distance

Zip Code
Distance in miles

Birth Date
Notes
Excludes

Deceased
Suspended (UMC)
Expelled

Other
Buffer
Functions
History

- during each session that you use groupable|m2, a list of past visited members will be displayed each time you visit the Find Member screen.

Search

- executes the search causing the results to appear on the right side. More results will appear as you scroll until "end of results" appears.
Result Options -

Member Name - clicking on the member name will take you to the member.
Lodge Name - clicking on the lodge name will take you to the lodge.
Actions

View - takes you to the member screen.
Label - generates a PDF of a single label addressed to the member.
Envelope - generates a PDF of a single envelope addressed to the member.
Profile - generates a PDF of the member's profile.
Notes
When searching by last name, the values given must be at the beginning of the name.
When searching by middle name, separate it from the first with a comma
When searching by Lodge, you must select the lodge from the offered choices that appear as you type the name/number in the field.
When searching by birth date, enter as much or as little as you know.
The buffer option adds the search results to the mail room buffer to be output as labels.