Managing Contact Information
Contact Info Menu
Click the Menu (three stacked lines) to display:
Show History
Add New Contact Information Fields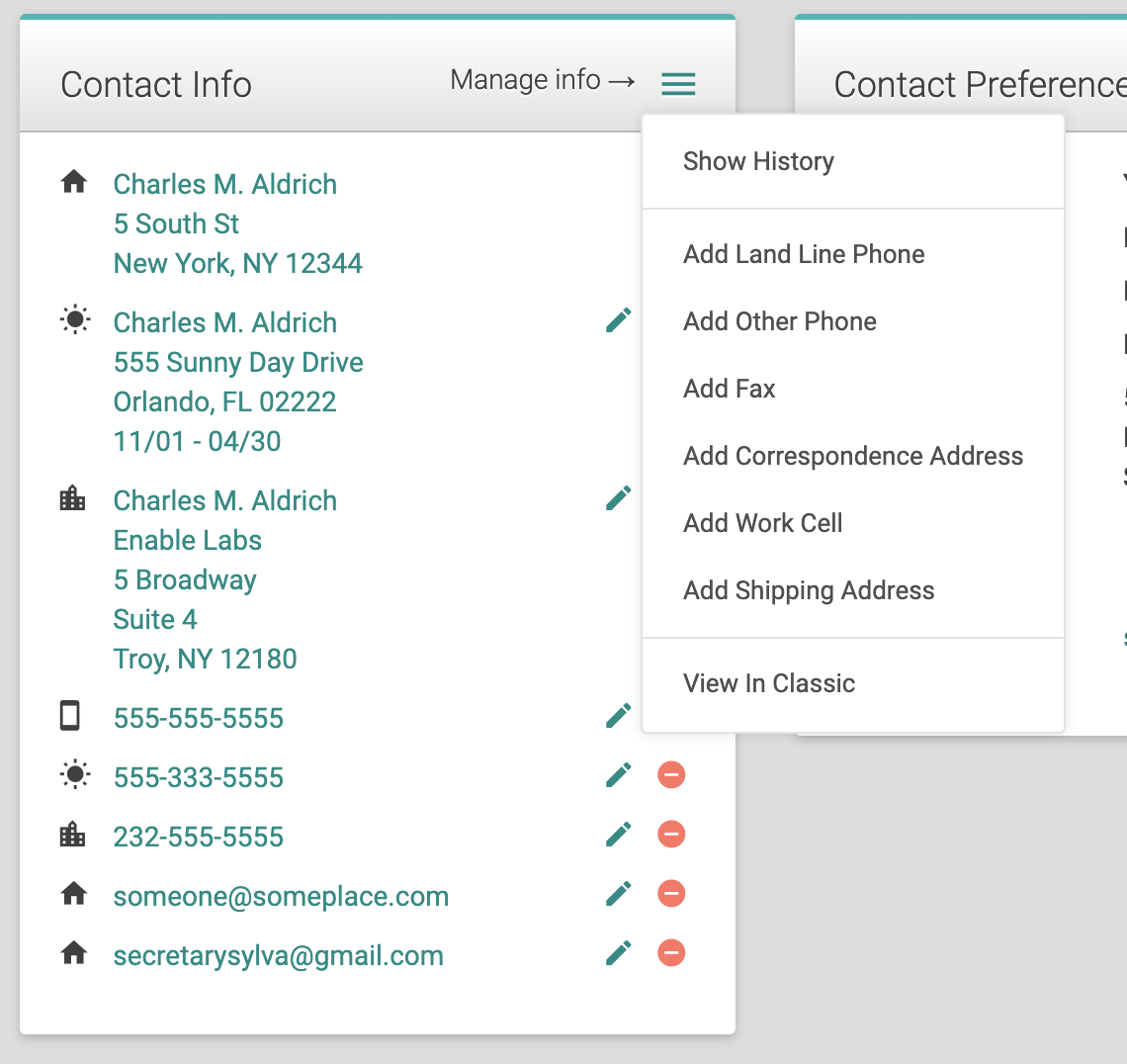 List of Primary Contact Information Fields
Primary Residential Address (cannot be deactivated; may only be marked Invalid OR address REPLACED WITH CORRECT ADDRESS)
Primary Email Address (emails from the system will be sent here only)
Other Email Address (displayed only, not actively used for emailing in m2 and OLP)
Cell Phone
Land Line Phone
Other Phone
Fax
Additional Addresses and their associated fields
Correspondence Address - An address to which the member would prefer their mail go to (if not their Primary Residential Address). Takes Precedence as "Default Address" over the Residential Address.

Correspondence Phone (dependent upon Address)

Shipping Address - For packages.

Shipping Phone (dependent upon Address)

Snowbird Address - The member's temporary address between a specified Start/End day (MM/DD format).

Snowbird Land Line (dependent upon Address)

Work Address

Work Phone (dependent upon Address)
Work Cell (dependent upon Address)
Please note if these additional addresses are deprecated, the corresponding phones will also be removed.
Add Contact Information
Select type of Contact Info that you wish to add from the Contact Info Menu.
Add each type of contact information separately.
Once you have added a Correspondence, Shipping, Snowbird (seasonal address), or Work Address you will be able to add a dependent Phone number (see above).
Edit Contact Information
In groupable:m2, the edit button is now a little "pencil" shape. Generally wherever you see that pencil, you'll be able to make changes.
(see screenshot)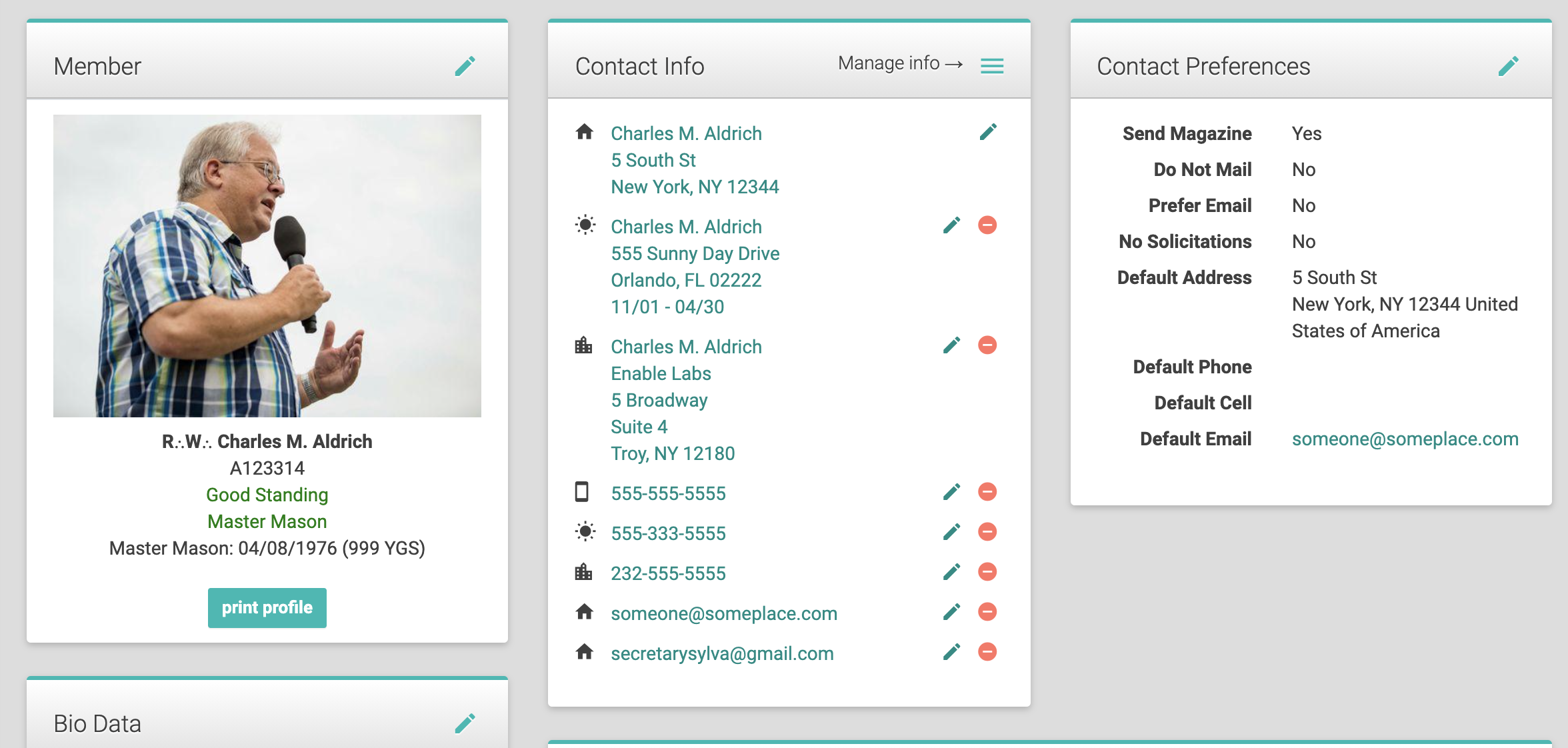 When you click the pencil, you'll be able to update and save the contact information. Within the "edit" Contact Info, you are able to mark Invalid "Yes" and save.
(see screenshot)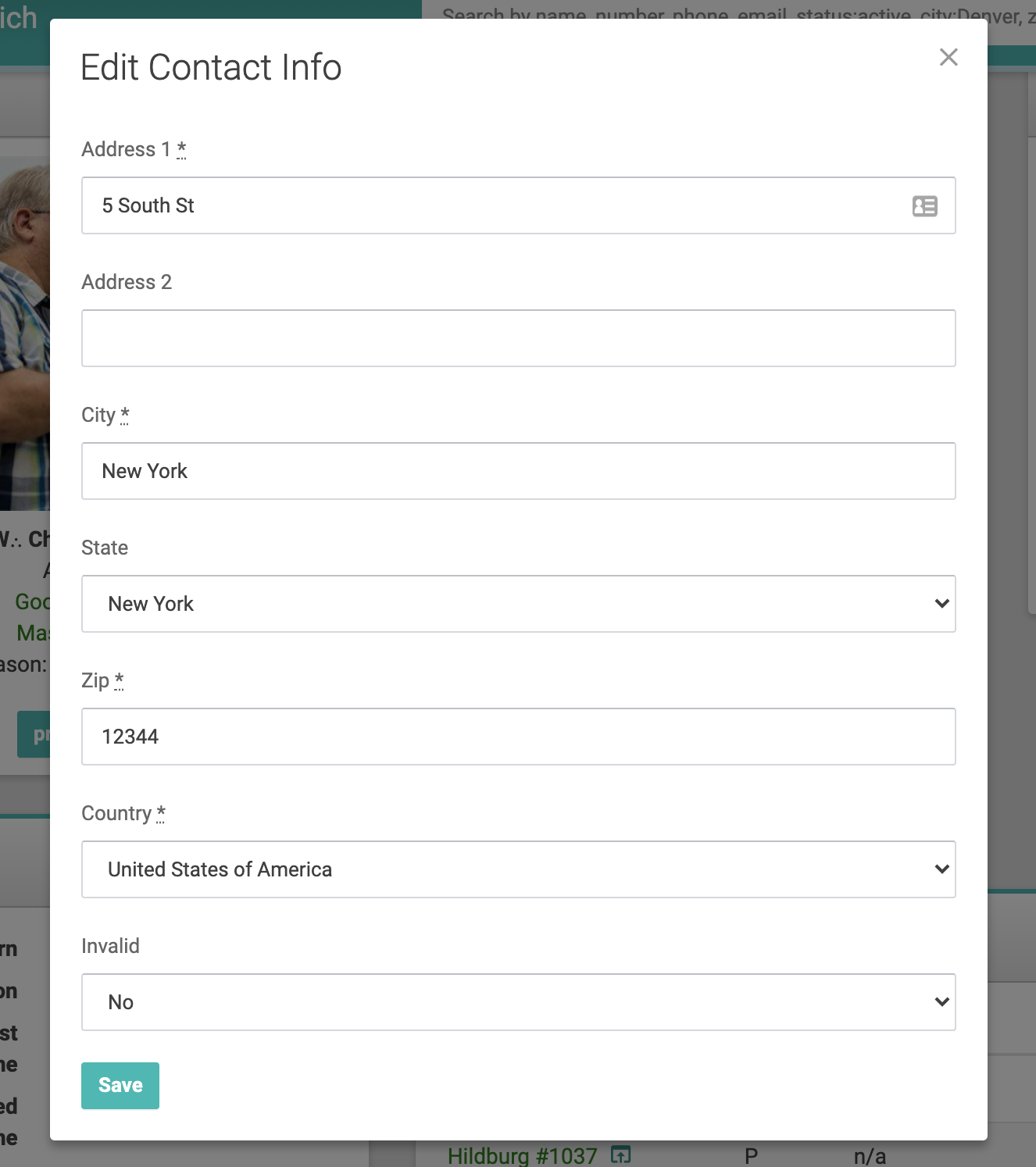 Deactivating (Deprecating) Contact Information
When you select the red minus symbol and confirm "OK", you will deactivate or "deprecate" this contact information.
Please note that Deactivating a Correspondence, Shipping, Snowbird (seasonal address), or Work address will also deprecate any associated phone numbers. Primary Residential Address can be marked invalid, but not deprecated.
(see screenshot for Deactivation warning)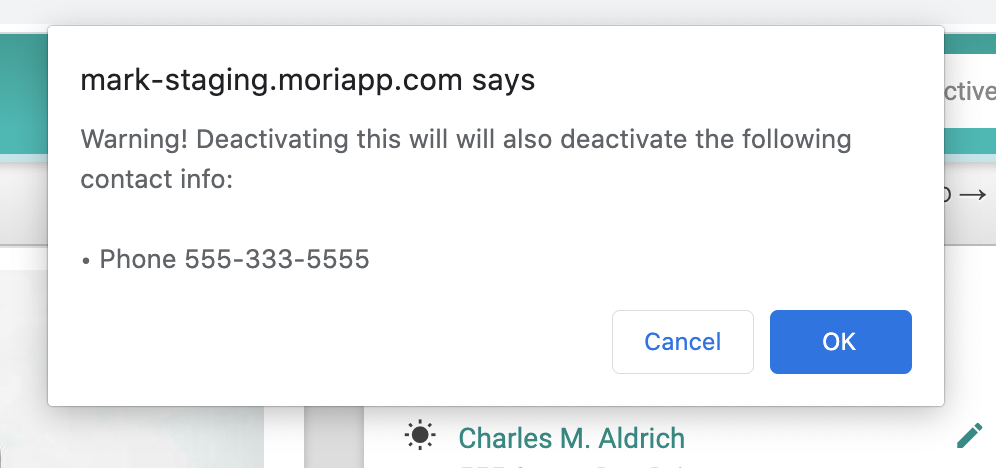 Notes
Country field defaults to United States of America; select Foreign Countries as required.
When a phone number or email address is associated with a correspondence or work address that does not exist, the address will display as a blank invalid address.
When a member permanently moves to a snowbird address, update their primary residential address to the correct address, and deactivate the snowbird address.